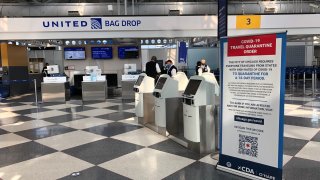 For the first time since Chicago's emergency travel order took effect in July, there are no states on the list requiring a quarantine or negative test for people coming to the city who are not vaccinated against COVID-19.
"Due to improving conditions around the country and the ongoing up-take of the COVID-19 vaccine, no states are above the 15 cases per 100,000 residents per day threshold," the Chicago Department of Public Health said in a statement.
As of the last update two weeks earlier, seven states were in an "orange tier" under the order, but those states - which included Colorado, Florida, Maine, Michigan, Minnesota, West Virginia and Washington - were moved to the lesser "yellow tier" on Tuesday.
According to the city's date, the only states currently above 10 cases a day per 100,000 residents are Washington, Colorado, Wyoming, and West Virginia. No Midwest states are above 7.9 cases per day, per 100,000 residents.
State - Cases/100,000
Indiana - 7.9
Michigan - 7.9
Illinois- 7.3
Missouri - 7.3
Minnesota - 7.1
Wisconsin - 4.3
Iowa - 3.7
"This shows that what we have been doing to protect ourselves and others is working: social distancing, wearing masks, and above all, getting vaccinated," said CDPH Commissioner Dr. Allison Arwady said in a statement. "This is good news, but by no means does it signal that we can drop our defenses against COVID-19."
While officials continue to discourage travel for unvaccinated residents, thresholds and the testing or quarantine requirements for each category are as follows:
Yellow: States with a rolling 7-day average less than 15 cases/day/100k residents.

No quarantine or pre-arrival test required. Maintain strict masking, social distancing and avoidance of in-person gatherings

Orange: States have a rolling 7-day average above 15 cases/day/100k residents 

10-day quarantine OR negative test no earlier than 72 hours before arrival in Chicago with strict masking, social distancing and avoidance of in-person gatherings
or
Be fully vaccinated, as defined as two weeks after the second dose of a two-dose COVID-19 vaccine or two weeks after one dose of a single-dose vaccine and not have symptoms
"Until you are vaccinated, no matter where you live or where you travel, you are still at risk," Arwady said. "COVID-19 vaccinations are safe and effective, and we continue working to make sure vaccinations are available in every part of Chicago."
Chicago Mayor Lori Lightfoot said last month that the order itself wasn't going away yet, but it could "soon."
"Obviously we're seeing progress being made across the country, but the primary purpose of the travel order is to equip members of the public with tools that they need," Lightfoot said at the time.
"We've already made a number of adjustments, both in terms of the states that are on versus off, but also making accommodations for people who are getting vaccinated... They don't have to go through the quarantine procedure that they previously had to without the vaccination, but I think that some form of the order is still necessary because it forms, I think it performs a very valuable function in educating the public."
Arwady said last month that while more residents continue to get vaccinated, the travel order remains in place.
"We look at it every week and as more and more people are vaccinated, it applies to fewer people," she said. "I think what we're going to see is increasingly there will be less need for these kinds of municipal travel orders because we may see airlines, for example, requiring vaccination status, or potentially a pre-testing requirement to travel. I think there's going to be more and more incentives for people to be vaccinated who want to travel and it will increasingly be safer to travel, but we are still, you know, we are clearly in, you know, another optic here in terms of COVID in the U.S. I wish I could say we were past it, but we're just not at this point. So at the moment really encouraging people getting vaccinated is the safest way to protect yourself and then you can do a lot of these other things like travel with much less worry much less need for the testing or the quarantine or any of those pieces."
Currently, Chicago is in the "Bridge Phase," of its reopening plan, with hopes of entering a full reopening in the coming weeks.
"We're headed in the right direction," the mayor said. "But everything about this pandemic has to have an asterisk of caution, because of the twists and turns, and as the governor and doctor said, we've got to get people vaccinated, so that we can get ahead of these variants."
And while the U.S. Centers for Disease Control and Prevention has issued new mask guidelines for fully vaccinated people, masks are still required for travel.
Under the guidelines, you will still be required to wear a mask on planes, buses, trains, and other forms of public transportation traveling into, within, or out of the United States, and in U.S. transportation hubs such as airports and stations.