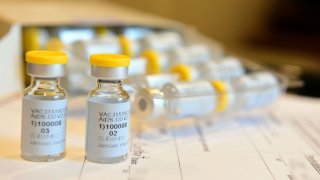 Chicago officials on Tuesday opened the city's in-home COVID vaccination program to all residents ages 12 and up, with $50 GrubHub gift cards to be given as an incentive to those who use the program.
Residents can register for the program on the city's website or by calling (312) 746-4835. Appointments are available immediately and the gift card distribution will begin June 28.
"Vaccination is the best step to protect your family and your community from COVID-19, and we are grateful to Grubhub for their donation," Chicago Department of Public Health Commissioner Dr. Allison Arwady said in a statement.
"Now families can be vaccinated together at home and then enjoy a home-delivered restaurant meal. It's easy and it's effective—and a great way to celebrate together," she added.
Those who choose the in-home vaccination will be given a choice between the Pfizer vaccine (for ages 12 and older) or the single-dose Johnson & Johnson vaccine (for 18 and up).
Up to 10 people can be vaccinated per household, the city said, with gift cards limited to one per household.