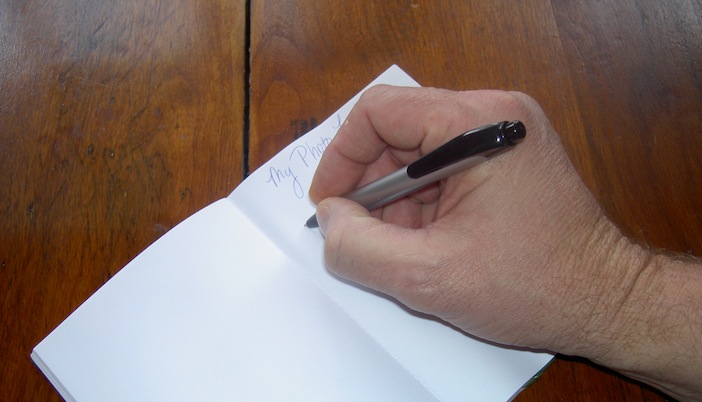 I know, I know, "journaling."

It seems like something in a high-schooler's wheelhouse, not something a grown adult should do, but there has been growing evidence recently that the act of journaling, specifically about your work life, can yield seen and unseen benefits for your career. Both Business Insider and Inc. have done posts exploring the virtues of this activity, and while I say evidence has been growing "recently" to support this is worth your time, I think it can also be said that this should go without saying that it's worth a shot.
But still, it's worth saying.
At Business Insider, Madeline Stilley of Levo League reflects on a journaling assignment she was given in graduate school wherein the professor asked students to reflect on the following in writing, a few minutes per day:
What events stand out in my mind from the work day and how did it affect my inner work life?
What progress did I make today and how did it affect my inner work life?
What nourishes and catalysts supported me and my work today? How can I sustain them tomorrow?
What one thing can I do to make progress on my important work tomorrow?
What setbacks did I have today, and how did they affect my inner work life? What can I learn from them?
What toxins and inhibitors impacted me and my work today? How can I weaken or avoid them tomorrow?
Did I affect my colleagues' inner work lives positively today? How might I do so tomorrow?
Stilley says she uses the last 10 minutes of her day to reflect on these.
Heck, even just writing this post I'm starting to think I should give this a shot. I feel like these are things that pop into my mind at various moments off and on throughout the work week, but I don't ponder them further. If you take some time, even just the last five minutes of your day everyday, you can articulate your issues and obstacles — and when you see them, they'll be easier to overcome.
David Wolinsky is a freelance writer and a lifelong Chicagoan. In addition to currently serving as an interviewer-writer for Adult Swim, he's also a comedy-writing instructor for Second City. He was the Chicago city editor for The Onion A.V. Club where he provided in-depth daily coverage of this city's bustling arts/entertainment scene for half a decade. His first career aspirations were to be a game-show host.