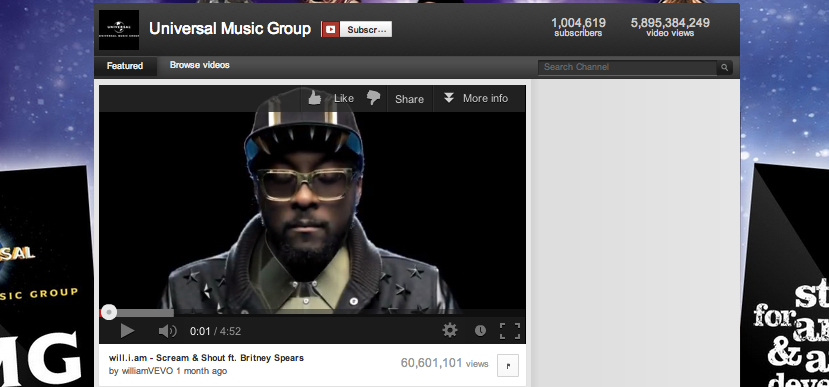 While many of us were opening gifts and engaging in Festivus (for the rest of us!), Universal Music Group and Sony found themselves getting a great big old lump of coal in is stocking in the way of having two billion "fake" YouTube views removed from their viewcounts in an enforcement of the video-sharing site's viewcount policy. In layman's: The major label was found to be engaging in black-hat practices to artificially boost its numbers.
There are a couple issues that come to mind, like why huge companies don't seem to be satisfied with their largesse, why anyone would bother artificially boosting their numbers and, of course, how they get caught.
"Today, YouTube is the second largest search engine on the web," said Elle Spektor, executive assistant to the CEO at Ajax Union. "Video results on search engines have a 41 percent higher click-through rate online, compared to their plain text counterparts."
That, coupled with the sometimes wrong but always prevailing instinct that the higher the viewcount the better the video must be means that people are highly competitive and cutthroat to get seen the most. The problem with that, though, is that tons of views alone don't get you much unless you're capitalizing on it somehow or funneling people elsewhere to profit from it. Justin Bieber's YouTube channel alone wouldn't have gotten him famous — Ellen DeGeneres had to discover him.
"But black-hat techniques aren't the way to go... you can't fake your YouTube 'views' and 'likes,'" added Spektor.
It all goes back to goals and why you're setting them where they're at and how you're going after them.
"I thought the term 'fake it til you make it' only applied to people on the ground floor of small startups and entrepreneurs if anyone at all," said branding strategist Aprille Franks-Hunt. "The
fact that giant corporations are 'buying appeal' to fool the public is, in my opinion, pathetic."
I would agree. Plus, in the end, they're the short game. Because Google owns YouTube, you won't be able to hide long, if ever or at all. Google's bots and crawlers are always checking content. If you get caught — and you will — you can expect the penalization to be tough, tough stuff.
David Wolinsky is a freelance writer and a lifelong Chicagoan. In addition to currently serving as an interviewer-writer for Adult Swim, he's also a comedy-writing instructor for Second City. He was the Chicago city editor for The Onion A.V. Club where he provided in-depth daily coverage of this city's bustling arts/entertainment scene for half a decade. When not playing video games for work he's thinking of dashing out to Chicago Diner, Pizano's, or Yummy Yummy. His first career aspirations were to be a game-show host.