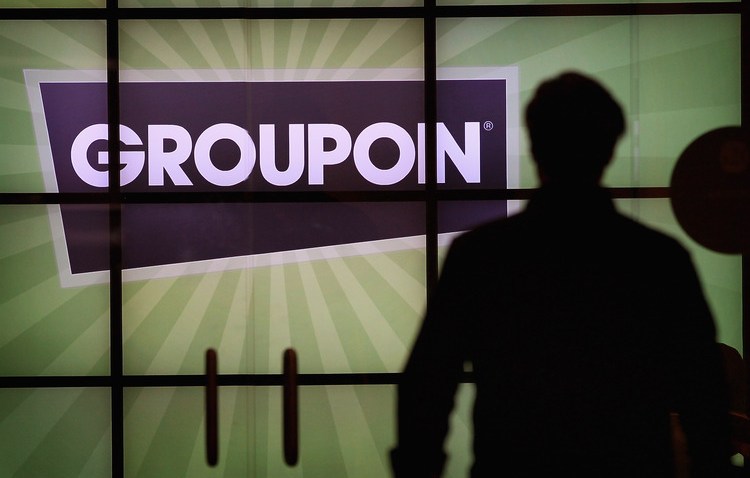 For a country that love its underdogs, we strangely sure don't miss a chance to kick Groupon when it's down. This last week, Castle Groupon's stock has hit its lowest point to date and seems to be showing no sign of bottoming out to bounce back. As of press time, it's at $3.83, which, again, is the lowest it's ever been.
Many media outlets made sure to take ample advantage of the juxtaposition of the company flailing around Halloween to characterize the company "spooky," "scary" or, my personal favorite, "haunted." Okay, I made that last one up, but the other two are absolutely legit.
The bigger point to make to help put things in a bigger perspective is that Sunday marks the one-year anniversary of the company's IPO.
Compared to then, the stock is at less than a quarter of where it started. Whatever pun or way you want to describe it doesn't really matter: Things aren't looking good for Groupon. There's no point in being cute or "clever" about it because the more important thing to ask is, "What happens next?"
It might be temping to characterize the company's current state as "collapsing." But I don't think that's what's really going on here. Sure, it's struggling, but it's when you're pushed to your limits that you usually dig down and try something new. You get desperate. You either change your strategy or you stay the course. And Groupon has stayed the course long enough now to, hopefully, know it needs to try something new.
Groupon will be filing its third-quarter earnings on Nov. 8, and some have speculated that Groupon's recent slump could be due to Hurricane Sandy.
I'm not so sure about that. Although some are speculating Groupon could swoop in post-Sandy to become a way to help get people's mind off the disaster [http://wallstcheatsheet.com/stocks/could-groupon-help-consumers-post-sandy.html/] in the effected areas. Who knows. But Groupon has announced it has delayed certain deals in the Northeast markets "unless merchants contact the company to confirm they still want to run the offers."
Maybe it's just a week or a handful of days where everyone's not exactly at their best.
But Groupon has been struggling for quite some time now, which not even the company's staunchest defender could deny. The numbers don't lie.
The numbers, as it happens, are again under the SEC's microscope. Recently, the U.S. Securities and Exchange Commission asked the company to clarify its accounting for coupon refunds and other aspects of its business after Groupon revised its 2011 results and revealed a "material weakness in its financial controls."
According to Bloomberg, the SEC hasn't ruled further on this weakness.
But, hey, Groupon: You can do it.

David Wolinsky is a freelance writer and a lifelong Chicagoan. In addition to currently serving as an interviewer-writer for Adult Swim, he's also a comedy-writing instructor for Second City. He was the Chicago city editor for The Onion A.V. Club where he provided in-depth daily coverage of this city's bustling arts/entertainment scene for half a decade. When not playing video games for work he's thinking of dashing out to Chicago Diner, Pizano's, or Yummy Yummy. His first career aspirations were to be a game-show host.