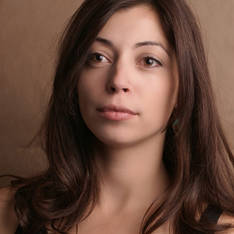 There's a lot to wrap your mind around with the approaching Chicago Ideas Week, the weeklong invasion of super-smart and super-influential folks taking place at venues all over town from Oct. 8 to 14.
We're helping with a series of speaker profiles designed to highlight the speakers who will benefit you, the Chicago entrepreneur. There are just over 100-plus speakers announced so far, and more to come.
In this profile: Naomi Natale
Accolades: Ideas Week was kind enough to list her awards and such in reverse chronological order: 2011 Arts Healing Network Award, 2010 TED Senior Fellowship, 2010 Carl Wilkens Fellowship, 2009 TED Global Fellowship, and the 2009 Professional Achievement Award: Richard Stockton College of New Jersey.
Why you should care: Natale is an artist who served as an artist-in-residence at Columbia College in 2008, 2010 and 2011, so she's someone who knows the deal with this city and what it takes to "make it" as an artist here. If you're interested in the business of art, the logistics of major installations (Natale is aiming "to collect 1,000,000 handmade bones and display them on the National Mall in DC in 2013") and how you can mix activism and social practices with education, well, then those are all pretty good reasons why you should care.
When you can see her: Oct. 10, 2 p.m. - 1:30 p.m.
Read more here.
David Wolinsky is a freelance writer and a lifelong Chicagoan. In addition to currently serving as an interviewer-writer for Adult Swim, he's also a comedy-writing instructor for Second City. He was the Chicago city editor for The Onion A.V. Club where he provided in-depth daily coverage of this city's bustling arts/entertainment scene for half a decade. When not playing video games for work he's thinking of dashing out to Chicago Diner, Pizano's, or Yummy Yummy. His first career aspirations were to be a game-show host.