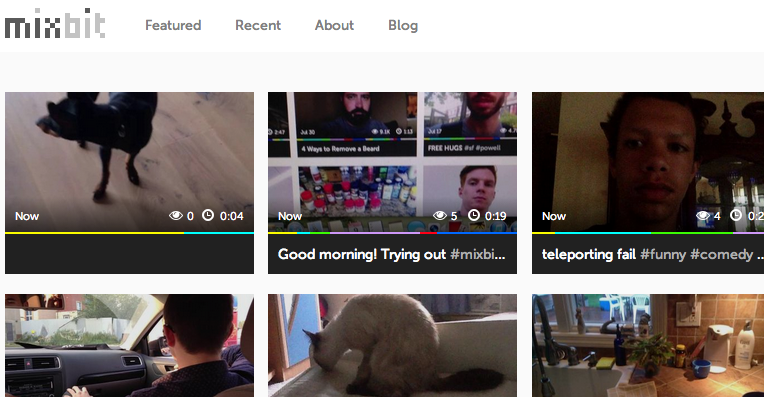 If you haven't heard, YouTube founders Chad Hurley and Steven Chen are hopping into the ring against Vine and Instagram with their own new video app, Mixbit. Mixbit is currently only for iOS, just like Vine when it first started, and it differentiates itself in two key ways: It lets people capture 16-second videos (one more than Instagram and 10 more than Vine) and it also has a bit of a cloud-based database to share stuff with other users.
MixBit aims to allow users access to other people's videos, too, to then clip, stitch and mix other people's filmed bits. Hence the name.
So what does this have to do with your business?
Small businesses are agile and able to tinker and experiment with new ways to reach their customers. Facebook, YouTube and Twitter are safe standbys, but if you aren't staying curious, you can easily get left in the proverbial business dust. Besides, if companies like Ben & Jerry's and GE can use these new formats, so can you.
So which one is right for you?
I can't tell if I'm going to sound like a Luddite with this recommendation or not, but my money is still on Vine. It was the original, and while it might be more confining than the others, there is definitely something to be said for its rigidity: Six seconds aren't something to bristle against, but instead to embrace and find ways to be creative within.
I find it funny that each of these new social video services emerging allows its users to film slightly longer, as if allowing people only six seconds is a hindrance somehow. The constraints are good. Otherwise, it seems like we're just on a path to apps allowing people to film 30-second spots, and isn't that where we started off to begin with? It might be fine for personal use, but brands have had that type of real estate for a good, long while already.
So, I'm not saying to ignore these other emerging formats, but instead to keep an eye on them. After all, they are free. But I'd stick with Vine. It was there first, it's the most well known, and if there becomes another true leader that emerges in this space, then you can consider it. But I don't think you'll end up looking like an early adopter, but instead someone who chases trends if you hop from the latest one to the next latest one and so forth.
David Wolinsky is a freelance writer and a lifelong Chicagoan. In addition to currently serving as IFC's comedy, film, and TV blogger, he's also a comedy-writing instructor for Second City and an adjunct professor in DePaul's College of Computing and Digital Media. (He also co-runs a blog behind the DePaul class, DIY Game Dev.) He was the Chicago city editor for The Onion A.V. Club where he provided in-depth daily coverage of this city's bustling arts/entertainment scene for half a decade. His first career aspirations were to be a game-show host.