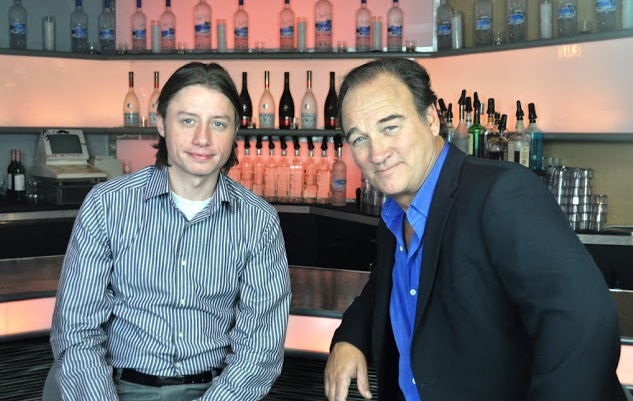 It can be tough to get noticed as a business, no matter what you do. And if you run a comedy club, that goes doubly because you're competing for everyone else's lingering entertainment dollars. Still, that didn't deter Kyle Lane from opening the Comedy Bar in River North in Aug. 2011. The business has been doing well, so well, in fact, that it started to attract the attention of Co-Owner Lane's friend Jim Belushi. Belushi asked Lane how he could get involved and help earlier this year, and fast-forward to now, and the pair have announced their forging a partnership to help grow the brand. The theater is rebranding, adding improv, music and dancing to its lineup along with its mainstay: stand-up. The gala event takes place this weekend from Oct. 18 through to Oct. 20.
To find out more about the partnership, how it came about and what goals Lane has for it, I gave him a call.
Tell me about this partnership.
Kyle Lane: It's kind of been an underground show, the best kept secret. We've done well, we've done really well and a lot of people have heard about us but the reason I partnered with Jim is to bring some legitimacy to the room and let the city know about it. We don't have the marketing budget that's going to compare to a place like Second City or even Zanies. We only charge in the $10 to $15 price range and we don't offer a drink minimum. We really want to be an affordable place that's been competitive with the other comedy venues and the reason I wanted to bring Jim on is because he's just going to let the city know about it. More than anything, he's going to legitimize us to everybody and let everybody know that the Comedy Bar exists and open it up to a lot more tourism. We're right in the heart of the downtown, River North area. Like I always say, Jim's like the Mike Ditka of Chicago comedy.
What's involved with getting a partnership like this going?
Kyle Lane: I'm lucky because Jim's a friend of mine for about five or six years. I've worked with his son for about the past seven or eight years. We filmed a movie together when I was 21. We became friends, we started doing a lot of shows together, acting and a lot of stuff together. I eventually got to know Jim and he has always known what I've done and last spring he said, "What's going on with this? I'm interested in this." He's quite the businessman himself. To make it over 30 years in show business is quite the task. We have a similar work ethic and similar goals and it ended up being wonderful. Some people will bring a celebrity name on and the guy just comes in and throws a couple of lines and does some press and that's it. But Jim and I are partners. He's going to help me, give me advice and mentor me to take the club to the next level. Getting the press and the backing and all that is icing on the cake, but it's nice to know somebody who knows this business as well as he does to come in with his contacts to support the Comedy Bar and myself and help take it to the next level.
What sort of advice has he been giving you?
Kyle Lane: A lot of advice, especially on things like branding and a big direction that we can go from here and what else can do from here in the future and advice. We're adding an improv night and we're adding a blues band as well. Obviously those kind of areas of entertainment are more Jim's alley, so he's given a lot of advice regarding those kind of things and the overall direction of where we're gonna take this company.
Have you had these kind of partnerships before in your career?
Kyle Lane: Nothing like this. This is kind of my first big real one. It's been in negotiations and talks through the summer. We knew we were going to wait until the fall time and got a little darker, because that's when comedy picks up. Comedy's biggest competition is actually the sun. So we've been in talks planning this for about four to six months.
Do you have any advice for other entrepreneurs hoping to forge a partnership like yours with a celebrity?
Kyle Lane: Whether it's with partners or celebrities, but in business in general, you want to grow it. Small businesses have to grow and they have to thrive to maintain. One of the biggest things to do that is constantly hunting out opportunities. And if you can't find an opportunity, then you have to create one. You also have to try your hardest not to burn any bridges. In fact, build all the bridges you can with people.
Have you run into or heard about the non-celebrity in a partnership similar to yours imposing too much on the celebrity because they are so much more visible in the public eye?
Kyle Lane: I believe that definitely can happen and I wouldn't have partnered with Jim if I thought that was the case. But Jim, like I said, his just being a celebrity is just the icing on the cake. What I like is the contacts he's bringing in. If we wanted to open one of these in Vegas or Minneapolis or anything like that and expand it, it becomes a lot easier to sell the comedy club with the Belushi name attached to it and things like that. His contacts and overall knowledge of this business is what I love. So the fact that his last name is Belushi is just icing on the cake. I would have partnered with Jim just with his knowledge of the business. I don't want this to just be a comedy club in Chicago. Even though it's going to be an amazing one and it's going to be awesome, I want to grow this to have a Comedy Bar in every major city in America. And to do that, you really gotta have some big backing and a lot of help to do it. And that's what I hope Jim brings to the table.
David Wolinsky is a freelance writer and a lifelong Chicagoan. In addition to currently serving as an interviewer-writer for Adult Swim, he's also a comedy-writing instructor for Second City. He was the Chicago city editor for The Onion A.V. Club where he provided in-depth daily coverage of this city's bustling arts/entertainment scene for half a decade. When not playing video games for work he's thinking of dashing out to Chicago Diner, Pizano's, or Yummy Yummy. His first career aspirations were to be a game-show host.