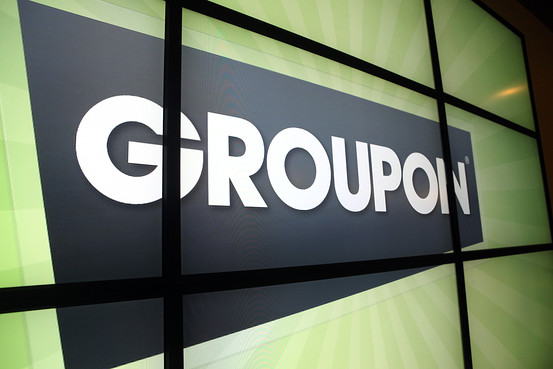 Although most folks whose blood bleeds civic pride would like to talk as though Groupon is still hyper-relevant, the sad fact is that it probably isn't. It still belongs in the conversation about Chicago's startup and business scene, but more as a cautionary tale rather than one to draw oceans of inspiration from. Case in point: Since CEO Andrew Mason was axed, there's been little activity in the news to indicate that he or his former company are flourishing.
Nevertheless, Castle Groupon still warrants an occasional check-in to see how things are going and whether a recovery seems possible or even plausible. The Wall Street Journal captures what's going on perfectly with the stock when it wrote last week:
Yet, at $7.65, Groupon gets too much credit for a return to peppy growth when it still has much work to do. Groupon's initial public offering price of $20, some six times forward revenue for a then-unprofitable company, was absurd. But the Internet-coupon company deserves credit for its staying power.
Elsewhere, there are growing reports of listed deals that aren't actually as good as they seem. That's an inherent facet of the company's exorbitant growth — the faster you grow, the more details that need to be kept in mind. But this sort of story — as relayed by ABC and dailyfinance.com — doesn't exactly instill confidence:
ABC's "The Lookout" booked a stay at a "luxury hotel" in the Dominican Republic through Groupon Getaways at a price of $173 a night for a junior suite -- a 44% discount, the site claimed. But another ABC producer booked directly with the hotel and got a "deluxe room" for $146. When they arrived, they discovered the rooms were exactly the same, which means they actually paid more by booking through Groupon.
And what's up with Mason? The Wall Street Journal, again, has it that he "has begun some work on a new startup idea that may 'touch on' e-commerce, though he's being coy about details." Apparently there's also talk of him starting a news outlet for long-form journalism, though Mason says it's "probably not something I'll do."
So there you have it.
David Wolinsky is a freelance writer and a lifelong Chicagoan. In addition to currently serving as IFC's comedy, film, and TV blogger, he's also a comedy-writing instructor for Second City and an adjunct professor in DePaul's College of Computing and Digital Media. (He also co-runs a blog behind the DePaul class, DIY Game Dev.) He was the Chicago city editor for The Onion A.V. Club where he provided in-depth daily coverage of this city's bustling arts/entertainment scene for half a decade. His first career aspirations were to be a game-show host.