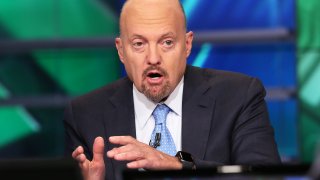 (This article was sent first to members of the CNBC Investing Club with Jim Cramer. To get the real-time updates in your inbox, subscribe here.)
What I am looking at, January 4, 2022:
Great straw man there is no one who wants government to shut down anything... The mandates are over other than to suggest that if you want to vax you can... Nothing more to push…
Ford (F) going to 150,000 for F-150 Lightnings, sold out...Lightning orders start Thursday.... Can Ford Mustang Mach-E and F-150 Lightning become number two EV?... Huge charitable trust name and one of our best performers...
Linde (LIN)... industrial gas... club name... Societe Generale raises price target $365 to $400... this is an industrial that is a growth industrial that is also the key to clean hydrogen not being niche...
Estee Lauder (EL)... PT goes from $355 to $410 at Oppenheimer-uniquely positioned... We took huge gain and moved on but there is a lot to like on a pullback... Buy Ulta Beauty (ULTA), too... Love that one...
Wolfe downgrades JPMorgan (JPM)... $185 target.. What the heck? I don't trust this call... analyst worried about expenses...
Truist says DoorDash (DASH) is tracking ahead of what people think... I believe this is definitely the case given the paucity of servers because of omicron... Analyst thinks there will be adjusted EBITDA profitability... I do not know if that will be enough....
This is a big call: Foot Locker (FL) goes from hold to sell at JPMorgan... Why? Analyst Boss thinks that Nike's direct to consumer is hurting it...
Evercore ISI goes hold to buy on BP (BP) major product starts that are improving mix... cheapest group again in 2022?... Opec+ meeting today... Club prefers Chevron (CVX) better balance sheet and growth prospects...
Guggenheim goes neutral to buy on Coca-Cola (KO)... cites stronger emerging growth market despite low valuation... I prefer faster growing, less institutional PepsiCo (PEP)...
Halliburton (HAL) hold to buy at Morgan Stanley... again re-rating of entire group...
Everyone is always rooting for this one: Under Armour (UAA) hold to buy at Baird...But you should just stick with Nike (NKE)...
Credit Suisse says General Electric (GE) executing well on spin off of energy, healthcare and aviation... they go hold to buy... they think that Honeywell (HON) lags, they go buy to hold... While I like GE I totally disagree with this and think that HON will be doing deals to make it worthwhile to buy... HON CEO Darius Adamczyk will figure out next move and is less levered to the aerospace comeback that I still don't see happening... we bought some HON recently for the trust...
Stanley Black & Decker (SWK) PT $231 to $232 at Barclays-they like and say it will be backended...
Barclays cuts numbers 3M (MMM) $182 to $177... keeps it as a sell and sees margin pressure...
Wells now says Constellation Brands (STZ) is great—q coming up $265 to $300... I totally agree with this. Beer is very strong; Reports Thursday...
Eli Lilly (LLY)... investment club fave... this one has price target raised $270 to $280 by Wells Fargo... obesity franchise and will soon find out how Biogen will do on discounted Alzheimer's... I think that this is monumental for Alzheimer's... could be huge for the stock.
Emerson Electric (EMR) liked by Barclays... $98 to $99 PT, but analyst sees margin pressures ahead...
Cramer Trust fave Marvell Tech (MRVL) named top pick by Needham $110 goes to $115....sees 30% ORGANIC revenue growth! Fastest grower among large cap peers...
BIG CALL: Disney (DIS) named top large cap idea from Wells Fargo... says don't worry about parks, deluge of content coming, signature pick.. I think that the key to DIS is what they will do with the metaverse and making you part of the movie... trust owns this for these exact same reasons
The CNBC Investing Club is now the official home to my Charitable Trust. It's the place where you can see every move we make for the portfolio and get my market insight before anyone else. The Charitable Trust and my writings are no longer affiliated with Action Alerts Plus in any way.
 As a subscriber to the CNBC Investing Club with Jim Cramer, you will receive a trade alert before Jim makes a trade. Jim waits 45 minutes after sending a trade alert before buying or selling a stock in his charitable trust's portfolio. If Jim has talked about a stock on CNBC TV, he waits 72 hours after issuing the trade alert before executing the trade. See here for the investing disclaimer.
 (Jim Cramer's Charitable Trust is long F, LIN, HON, LLY, MRVL, DIS.)
Copyright CNBCs - CNBC