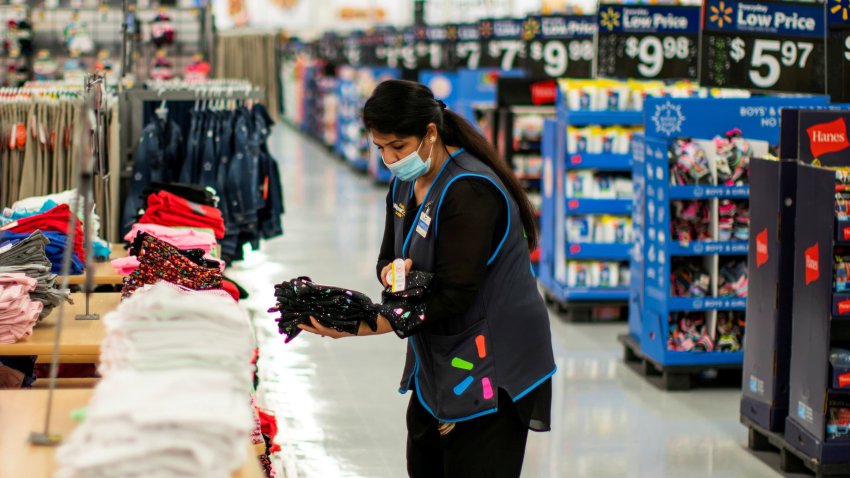 Walmart said its minimum starting wage for workers will remain at $11 an hour.
Rivals Amazon and Target have made their starting wages $15 an hour.
Walmart's U.S. workforce numbers about 1.5 million people, making it the nation's largest private employer.
Walmart announced Thursday it will give 425,000 employees a raise, a move that will increase its average pay to above $15 an hour.
The discounter is the country's largest private employer with a U.S. workforce of 1.5 million people. Its minimum starting wage will remain $11 an hour. Starting March 13, the company said it will pay store workers who stock shelves or support its e-commerce business $13 to $19 an hour, depending on their role and store location.
In an interview with CNBC's Courtney Reagan on "Squawk Alley," Walmart CEO Doug McMillon said the company supports increasing the federal minimum wage, which is $7.25 per hour. He does not back a plan, advocated by President Joe Biden, to raise it to $15 minimum wage, however.
He said Walmart will continue to raise its minimum wage over time, but it will vary based on where the store is based. Instead of hiking wages across the board, he said it is giving its pay increases to employees with key roles or more tenure. He said it wants to make sure it creates a career path for them at the company.
"What we're trying to do is put together the opportunity for our associates to climb a ladder," he said. He noted that he began at Walmart as an hourly worker.
About 75% of store management joined the company as an hourly employee, he said at an investor meeting on Thursday.
Walmart employees who get pay increase, however, will no longer qualify for quarterly bonuses. Employees who do not get a raise are still eligible for the bonuses. The Wall Street Journal first reported the change to employees' pay structure.
Walmart spokeswoman Anne Hatfield said the new model creates more predictability for those employees, since bonuses vary in amount and are not guaranteed, and said it will ultimately result in higher pay. She said it phased out quarterly incentive pay for some workers last year when it introduced new store leadership roles.
 The big-box retailer announced the wage hikes for some of its workforce as it reported holiday-quarter earnings that fell short of Wall Street's expectations and cautioned that it expects its sales growth to moderate this year.
Walmart shares closed Thursday down 6.48% to $137.66. Its market value is now $389.48 billion.
Some of Walmart's rivals, including Amazon and Target, have raised employees' minimum wage to $15 an hour. Target raised its starting wage to $15 last summer. It had previously planned to reach that milestone by the end of 2020, but accelerated its timetable during the pandemic.
Companies have been under pressure to pay employees more as the Biden administration pushes for increased pay and half of U.S. states raise their minimum wages this year. Store employees at Walmart and other grocery stores have also been on the frontlines during the pandemic, too, taking on additional risks as they check out customers or stock shelves — with some falling ill, dying or spreading Covid-19 to family members.
McMillon, who also serves as chairman of the Business Roundtable, has previously said that the retailer believes the federal minimum wage should be higher.
Copyright CNBCs - CNBC