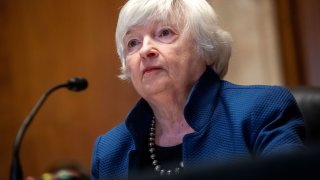 U.S. Treasury prices jumped and yields declined as investors rushed into the safety of U.S. government bonds amid a global sell-off in financial markets.
At 4:10 p.m. ET, the yield on the benchmark 10-year Treasury note dropped nearly 6 basis points to 1.311% and the yield on the 30-year Treasury bond fell nearly 6 basis points to 1.846%. Yields move inversely to prices.
China's second-largest property developer, Evergrande, is on the brink of default and sending shockwaves across markets as some analysts warn the pain that could come from its collapse would extend beyond China.
"By no means are we anticipating any Evergrande contagion will trigger a similar dynamic in the current episode, but the feedback loop between equity vol, financial conditions, monetary policy, and US rates is nonetheless worth highlighting as the market's collective angst grows more pronounced," said Ian Lyngen of BMO Capital Markets.
Homebuilder sentiment improved for first time in three months, according to data released by the National Association of Home Builders Monday morning, following a big drop in lumber prices.
Meanwhile, U.S. Treasury Secretary Janet Yellen asked Congress on Sunday to raise the federal debt ceiling. In an opinion article with the Wall Street Journal, Yellen said failing to raise the debt ceiling could spark a historic financial crisis.
Furthermore, investors are looking ahead to a new Federal Reserve meeting, with Chairman Jerome Powell due to speak on Wednesday. Powell has previously said the central bank could start lifting monetary stimulus before the end of the year and investors will be looking for clues about the tapering process.
—CNBC's Yun Li contributed reporting
Copyright CNBCs - CNBC