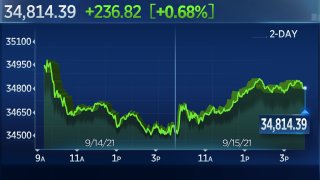 The Dow Jones Industrial Average rebounded Wednesday after a string of negative trading sessions this September.
The blue chip index rose about 236.82 points, or nearly 0.7%, to 34,814.39. The S&P 500 ticked up 0.8% to 4,480.70. The Nasdaq Composite traded up 0.8% to 15,161.53.
"Despite concerns about the recent downshift in economic and business cycle momentum, we remain confident that strong growth lies ahead and activity is bound to re-accelerate," wrote JPMorgan strategist Dubravko Lakos-Bujas, in a note Wednesday. "We remain positive on the equity outlook, and expect S&P 500 to reach 4,700 by end of this year and surpass 5,000 next year on better than expected earnings."
Some bullish economic news released before the bell Wednesday helped stabilize investor sentiment. The New York Fed's Empire Index, a measure of manufacturing in the region, came in at 34.3 for September, way ahead of the 18 consensus estimate from FactSet. It marked an acceleration from August.
Energy stocks, which have been popular bets among investors banking on a big economic recovery, gained as WTI crude rose. The Energy Select Sector SPDR ETF gained nearly 3.7%. Exxon added 3.3%.
Rising U.S. Treasury yields helped lift bank stocks, with Citigroup up 2.4% and Morgan Stanley 1.1% higher. Higher interest rates typically boost bank profits.
Industrial names closely linked to the economic recovery also gained, with General Electric and Caterpillar higher.
Microsoft shares gained 1.6% after announcing a dividend increase and a sizable $60 billion share repurchase program.
Casino stocks like Las Vegas Sands and Wynn Resorts traded in the red again on Wednesday. Those names took a big hit Tuesday as the government of Macau looks to increase regulatory scrutiny over casinos and Chinese health authorities reported a Covid-19 outbreak.
Markets have been in a funk so far this month amid rising investor worries about the delta variant derailing the economic recovery, along with hand-wringing over the next action by the Federal Reserve.
September has historically been a down month for the markets, which have seen an average decline of 0.56% in the month since 1945, according to CFRA. And after eight months of straight gains, strategists say a pullback could be imminent.
For September, the Dow is down 1.5% and the S&P 500 is off roughly 0.9%. The S&P 500 is on track for its worst monthly performance since January.
The S&P 500 has continued to move higher throughout the year, dipping below the 50-day moving average only once, according to Fundstrat. Mike Wilson, chief investment officer at Morgan Stanley, told CNBC's "Fast Money" that could be just the beginning.
"The midcycle transition always ends with a correction in the index," he said of the S&P 500. "Maybe it'll be this week, maybe a month from now. I don't think we'll get done with this year, however, with that 50-day moving average holding up throughout the year because that's the pattern we typically see in this part of the recovery phase."
Copyright CNBCs - CNBC