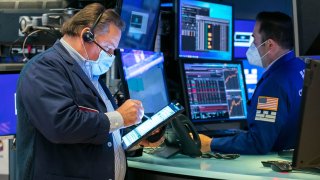 U.S. Treasury yields rose on Friday morning after retail sales for September showed a surprise increase.
The yield on the benchmark 10-year Treasury note climbed by 5.3 basis points to 1.572% at 4:10 p.m. ET. The yield on the 30-year Treasury bond added 2 basis points, rising to 2.045%. Yields move inversely to prices and 1 basis point is equal to 0.01%.
Retail sales for last month rose 0.7%, the Census Bureau reported Friday. Economist for Dow Jones were expecting a decline of 0.2%. The report also came in hotter than expected when excluding auto sales.
"Despite reports of increasingly widespread shortages, spending on goods apparently held up relatively well," Capital Economic's Andrew Hunter said.
The retail sales report follows a mixed week of inflation data releases. September's producer price index, released on Thursday, rose slightly less than expected. Month-on-month, the index showed wholesale prices had increased by 0.5%, compared with a Dow Jones estimate of 0.6%.
However, September's consumer price index, released on Wednesday, came in ahead of estimates. Consumer prices climbed 0.4% on the previous month, versus a Dow Jones forecast of 0.3%. Year-on-year prices inflated by 5.4%, compared to an estimate of 5.3%.
In addition, Labor Department data released Thursday showed that there were fewer than 300,000 jobless claims filed in the week ended Oct. 9, for the first time since the beginning of the coronavirus pandemic. There were 293,000 unemployment insurance claims filed last week, lower than the 318,000 estimate.
Both inflation and jobs data are being closely monitored by the Federal Reserve, to gauge when it will start to pull back its emergency stimulus measures, starting with the tapering of its bond buying program. Minutes from the Fed's September policy meeting, released on Wednesday, showed that the central bank could start reducing its asset purchases as soon as mid-November.
Following this update, as well as the release of key data throughout the week, the 10-year Treasury yield has fallen back below the 1.6% mark.
The University of Michigan's preliminary consumer sentiment reading is set to come out at 10 a.m. ET.
—CNBC's Jesse Pound contributed to this report.
Copyright CNBC