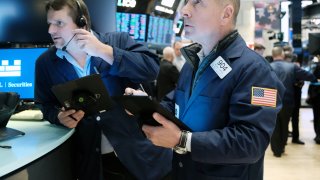 U.S. Treasury yields fell Monday as investors made further attempts to predict what 2023 would hold for markets.
The yield on the benchmark 10-year Treasury note was down around 4 basis points to 3.528%. The 2-year Treasury traded around 4.195% after slipping around 2 basis points.
Yields and prices have an inverted relationship and one basis point is equivalent to 0.01%.
Both advanced earlier in the day before a survey from the New York Federal Reserve released Monday found consumers expected both inflation and their spending to cool in the year ahead.
More broadly, investors continued to assess the outlook for inflation and how that could affect the Fed's next interest rate decision. The central bank is due to meet on Jan. 31 and Feb. 1, and investors are considering whether rate hikes will be slowed further as the Fed's battle with persistently high inflation continues.
The central bank last increased rates by 50 basis points at its December meeting, a slight slowdown from the 75 basis point hikes it had implemented at each of its previous four meetings.
On Friday, December's nonfarm payrolls report indicated that inflationary pressures could be easing as it showed that wages grew by less than expected throughout the month. The report also showed that that the economy added 233,000 jobs in December, more than the 200,000 previously estimated by Dow Jones.
Investors are hoping to gain more clarity about inflation this week as December's U.S. consumer price index figures are due on Thursday.
Before then, several smaller data points are expected, including the consumer inflation expectations report on Monday.
Copyright CNBC