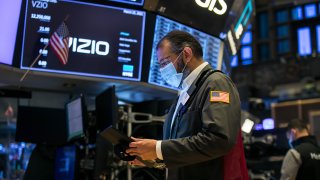 U.S. Treasury yields continued to fall Thursday, following a dovish message on monetary policy from Federal Reserve Chairman Jerome Powell in the previous session.
The yield on the benchmark 10-year Treasury note fell 6 basis points to 1.296% at 4:00 p.m. ET. The yield on the 30-year Treasury bond dipped 6 basis points to 1.923%. Yields move inversely to prices and 1 basis point equals 0.01%.
Bond yields have been falling since about March, the last time the 10-year was above 1.7%. In a testimony on Wednesday, Powell told the U.S. House Financial Services Committee that the U.S. economy is "a ways off" from where it needs to be for the Fed to tighten its easy monetary policy.
Yields rebounded from their lows of the session briefly, when Powell did show some concern about recent high inflation numbers, speaking in front of the Senate Committee on Banking, Housing and Urban Affairs Thursday.
"The challenge we're confronting is how to react to this inflation, which is larger than we had expected or that anybody had expected," he said. "To the extent that it is temporary, then it wouldn't be appropriate to react to that. But to the extent that it gets longer and longer, we'll have to continue to reevaluate the risks that would affect inflation expectations and would be of longer duration and that's what we're monitoring." 
That comment drove the 10-year yield slightly higher, according to Michael Schumacher, director of rates at Wells Fargo.
"If I listened to that it means the fed might consider tapering sooner than it had previously," he said. "Maybe Powell is just a little spooked about the massive uptick in inflation. He's said for a long time he wanted inflation but I'm not sure he wanted it this quickly." 
The U.S. Labor Department reported weekly jobless claims totaled 360,000, as expected by Dow Jones economists, for the week ended July 10, compared to 373,000 the week prior. The latest data marks a new pandemic low for initial jobless claims.
Auctions are due to be held Thursday for $40 billion of 4-week bills and $35 billion of 8-week bills.
— CNBC's Maggie Fitzgerald, Jeff Cox and Patti Domm contributed to this market report.
Copyright CNBCs - CNBC