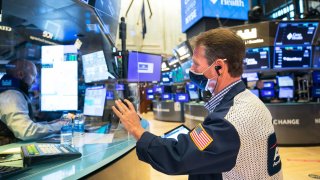 U.S. Treasury yields rose Tuesday with investors focused on the Federal Reserve's policy meeting and geopolitical tensions.
The yield on the benchmark 10-year Treasury note was 4.6 basis points higher at 1.781% by around 4:10 p.m. ET. The yield on the 30-year Treasury bond rose 4.1 basis points to 2.126%. Yields move inversely to prices and 1 basis point is equal to 0.01%.
The Fed's two-day meeting kicked off Tuesday, with a policy decision and a press conference from Chair Jerome Powell scheduled Wednesday afternoon.
"FOMC Eve has been anything but uneventful. ... While not at the absolute highs for 2022, 10-year yields in the 1.77-1.79% range reflect sufficient bearishness that we're left to ponder to what extent Powell could deliver a hawkish surprise that would warrant a further repricing in favor of higher rates," BMO Capital Markets' Ian Lyngen said in a note Tuesday.
The central bank is not expected to raise interest rates following the January meeting, with many investors expecting the first hike to be announced in March.
However, the Fed is expected to signal a continued tightening of monetary policy. Wall Street investors see the central bank nodding toward the end of its asset purchases in the next month or two and an outright rundown of the balance sheet to start around midyear.
Stephane Monier, chief investment officer at Lombard Odier Private Bank, told CNBC's "Squawk Box Europe" on Tuesday that his firm expects the "policy action to be implemented in March," with an end to asset purchase tapering and a first interest rate hike.
Monier said he will be listening to Powell's speech after the meeting on Wednesday to get some guidance "especially on the balance sheet reduction that is expected to start at the end of the year."
Investors are also keeping an eye out for updates on tensions between Ukraine and Russia. The U.S. State Department recommended Sunday that all U.S. citizens in Ukraine depart the country immediately, citing Russia's extraordinary military buildup on the border.
— CNBC's Jeff Cox and Amanda Macias contributed to this market report.
Copyright CNBCs - CNBC