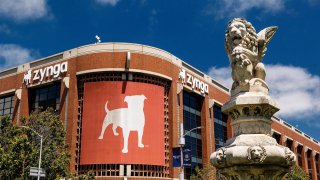 Take-Two said it will acquire Zynga for $9.86 a share, a 64% premium to Zynga's closing price Friday.
Shares of Zynga skyrocketed, while Take-Two slumped.
It marks the latest blockbuster acquisition in a string of major deals in the video game industry.
Take-Two Interactive says it is buying mobile gaming company Zynga for $12.7 billion with a mix of cash and stock, marking the latest blockbuster acquisition in a string of major deals in the video game industry.
The company announced Monday that it would acquire all outstanding shares of Zynga at $9.86 apiece, a 64% premium to Zynga's closing price Friday. Zynga's stock skyrocketed to close up 40% on Monday, while Take-Two closed down 13%.
Take-Two said Zynga shareholders will receive $3.50 in cash and $6.36 in Take-Two stock for each share of Zynga outstanding at the closing of the transaction. The deal, which is subject to regulatory and shareholder approvals, is expected to close by June 30, 2022.
"We are trying to build a business over a very long period of time," Take-Two CEO Strauss Zelnick told CNBC's "Squawk on the Street" on Monday. "We've paid attention to creating value for our players, for our colleagues and for our shareholders, and that's worked out over a very long period of time."
Take-Two said the deal gives Zynga an implied enterprise value of $12.7 billion. On an equity basis, Zynga's market value would be closer to $11 billion, according to CNBC calculations. The value could be subject to change depending on fluctuations in Take-Two's stock price.
Take-Two said part of the deal would be funded by $2.7 billion in financing from JPMorgan. The remainder will come from cash on its balance sheet and the proceeds of new debt issuance.
Best known for its FarmVille series, Zynga initially flourished on Facebook, at one point becoming the most successful app developer on the platform. In the years since, Zynga turned its focus to mobile, hoping to capitalize on explosive growth in the smartphone era.
While the company was viewed as a key beneficiary of stay-at-home trends brought about by Covid-19, its share price has fallen nearly 38% in the past year, with some investors questioning whether the pandemic gaming boom has legs in the long term.
Michael Pachter, managing director of equity research at Wedbush Securities, said the acquisition was a "solid move." He has a $15 price target on Zynga stock, much higher than Take-Two's offer.
"Take-Two should see an acceleration of its mobile business, including taking existing brands and turning them into mobile franchises," Pachter told CNBC by email Monday. He expects Take-Two to take a "hands-off" approach to managing the combined company, which will be helmed by Zelnick.
While FarmVille is Zynga's most well-known game, it has published several other notable titles including CSR Racing, Empires & Puzzles, and Harry Potter: Puzzles & Spells, which is based on Warner Bros.' Harry Potter franchise.
Take Two, which is known for Grand Theft Auto and other blockbuster console and PC franchises, is hoping to tap into the continued growth of mobile gaming, which accounts for more than half of the entire video game industry.
Take-Two, which reported $6.1 billion in net bookings in the 12 months ended Sept. 30, 2021, said it expects mobile to comprise more than 50% of its net bookings in the next fiscal year, up from 12% in fiscal 2022. The company defines net booking as the "net amount of products and services sold digitally or sold-in physically" over a certain period.
Zelnick said he expects the deal to create $100 million in annual cost synergies within the first two years after closing and potential net bookings of at least $500 million over time.
The deal follows a series of consolidation efforts in the $180 billion video game industry.
Microsoft bought Bethesda, the company behind the Fallout and The Elder Scrolls franchises, for $7.5 billion in 2020, while Electronic Arts acquired U.K. racing game developer Codemasters for $1.2 billion later that year. In 2021, Tencent announced deals to buy British gaming studio Sumo Group, as well as Turtle Rock Studios, the U.S.-based creator of zombie game Back4Blood.
 — CNBC's Jessica Bursztynsky contributed to this report.
Copyright CNBCs - CNBC