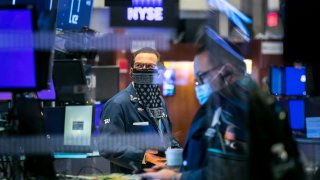 Wall Street was set for a solid start to Monday's session following a positive coronavirus vaccine-related announcement that lifted market sentiment. The move higher on Monday comes after the major averages struggled last week amid an increase in Covid-19 infections in the U.S.
The Dow closed up 1.12% for its best day since Nov. 16
The S&P 500 closed up 0.56% for its best day since Nov. 16
The Nasdaq Composite gained 0.22% for its second positive day in three
The Russell 2,000 gained 1.85% for its sixth positive session in seven, with the index hitting both a record intraday and closing high
Seven out of 11 S&P sectors were positive on Monday, led by energy which gained 7.11%
West Texas Intermediate crude, the U.S. oil benchmark, hit a high of $43.36 per barrel, its highest level since Sept. 1.
— Gina Francolla, Pippa Stevens
Stocks jumped in the final hour of trading as the market digested the news that former Fed Chair Janet Yellen is Biden's pick for Treasury Secretary, according to people familiar with the matter.
The Dow Jones Industrial Average advanced 330 points, for a gain of 1.1%. The S&P 500 and Nasdaq Composite rose 0.6% and 0.2%, respectively.
— Pippa Stevens
Janet Yellen, President-elect Joe Biden's pick as Treasury secretary, would be more efficient and skillful at communicating policies to the public, said Chris Rupkey, chief financial economist at MUFG.
"Very different skill sets involved here crossing over from the head of the Federal Reserve where the Treasury secretary is more political as the top economic architect in any administration," Rupkey said. "She will no longer be able to shy away from those pesky questions about the country's U.S. dollar and fiscal policies."
"One thing is for sure, and that is those Fed lending facilities for municipal funding, the corporate bond market and Main Street will be coming back quickly after the December 31 expiration date. She knows that what the Federal Reserve does is not just make and execute policy, it is the communication of that policy and how it looks to the public that is important. The expiration of those programs sends the wrong signal and they should be restarted," Rupkey added.
— Yun Li
Joe Biden has chosen former Federal Reserve Chair Janet Yellen as Treasury secretary, and that could be a clear signal that the president-elect will focus on the economic recovery from the pandemic damage, according to Ed Mills, Washington Policy Analyst at Raymond James.
"I think this is a strong sign that Biden will be focused on rebuilding the economy vs. pursuing aggressive regulatory policy (something that Warren or another progressive pick would have prioritized)," Mills told CNBC. "She does have tough stress tests (CCAR) and the the enforcement action against Well Fargo as one of her last acts, that will be pointed out as her willingness to take tough enforcement actions, when necessary."
"I also think she will be an effective voice of more fiscal support vs. someone who was seen as a partisan. So overall if the result is less partisan, more focused on economic recovery, and someone the market is very comfortable with – I would say that is a positive development for the market, but more importantly for the economy as a whole," Mills added.
— Yun Li
Stocks extended their gains following the news that President-elect Joe Biden has chosen former Federal Reserve Chair Janet Yellen as Treasury secretary, according to people familiar with the matter.
"Janet is a big name, with significant experience highlighted by her time at the Fed," noted UBS managing director Alli McCartney. "I am not surprised markets are reacting favorably as this choice is reassuring, especially with the challenges that lie ahead including avoiding a double dip recession and getting people back to work amidst rising Virus cases."
— Pippa Stevens
President-elect Joe Biden has chosen former Fed Chair Janet Yellen as his nominee to lead the Treasury Department, according to a report in the Wall Street Journal. Yellen, who was the central bank's chief from 2014 to 2018, was considered a frontrunner for the job. She would be the first woman ever to be Treasury Secretary.
— Jesse Pound
The announcement from AstraZeneca and Oxford University about their Covid-19 vaccine candidate's phase three trial was "premature and insufficient," SVB Leerink analysts said in a note clients.
The announcement earlier Monday showed that the vaccine was up to 90% effective in one subset of the study, and 70% effective on average. SVB Leerink said in a note that highlighting the 90% group was an attempt to "embellish" the results and that the design of the study did not appear to meet FDA requirements.
Those alleged shortcomings, along with the long pause the trial had in the United States because of a potential adverse health effect, mean the vaccine will likely not be approved for use in the U.S., the investment firm said.
"The companies (AZN and Vaccitech) are clearly already positioning the product as suitable for use in less developed countries, where their relatively favorable storage conditions (6 months at 2-8C) may be advantageous," the note said.
— Jesse Pound
UBS strategist Keith Parker said he expects the S&P 500 to reach 4,100 next year, noting there are "more tailwinds than headwinds for earnings." Some of these tailwinds include "further productivity strength as demand rebounds," increasing weakness in the U.S. dollar and "tepid wage growth."
Parker's new price target is up from a previous forecast of 3,900 and implies an upside of 15% from the S&P 500's closing level of 3,557.54 on Friday.
—Fred Imbert
Bank of America outlined the top five themes to watch in the commodity market in 2021, noting that a cyclical recovery should support positive returns for the group.
"Upside price potential, coupled with a potential rotation into backwardation in energy, points to modestly positive commodity returns in 2021," analysts led by Francisco Blanch wrote in a note to clients.
The firm is constructive on nickel and copper, but neutral on gold since "an uplift in U.S. inflation could also come with higher long-term interest rates." Blanch said that Brent crude spot prices could rise to $60 by mid-2021 aided by a strong summer driving season in the U.S. and Europe, while natural gas prices could rise above $4 per mmBtu.
— Pippa Stevens
On Monday BlackRock upgraded its forecast on U.S. equities to overweight. The firm said it expects the market to benefit from "structural growth trends and a potential cyclical upswing during 2021" amid positive developments on the coronavirus-vaccine front.
Read more about BlackRock's call here, as well as the portfolio strategy the firm recommends for investors.
— Pippa Stevens
The SPDR S&P Oil & Gas Exploration & Production ETF (XOP) climbed more than 6% on Monday, bringing its month-to-date gains to 36% and putting it on pace for its best month since April. This month's leaders in the ETF include Occidental Petroleum, which has soared 56% in November, on pace for its best month ever dating back to 1972. Apache is up 44.8% this month, on pace for its best month since April, and ConocoPhillips is up 44% in November, heading for its biggest monthly gain ever.
— Gina Francolla, Yun Li
The Dow Jones Industrial Average traded nearly 200 points higher around midday, or up 0.7%, as news of another potential coronavirus vaccine lifted expectations for an economic recovery.
The S&P 500 also gained 0.2%, but the Nasdaq Composite traded marginally lower as shares of major tech companies declined. Apple fell more than 2%. Netflix and Alphabet each lost more than 1%. Facebook, Amazon and Microsoft were all slightly lower.
—Fred Imbert
Snap — Shares of the social media giant popped on the unveiling of Spotlight, a new Snapchat feature aimed at competing with TikTok and Instagram Reels.
Gap — Gap shares jumped after a JPMorgan analyst upgraded the retailer's stock to overweight, noting Old Navy is "benefitting larger picture from the disproportionate growth of 'value retail,'" while Athleta is "well positioned to capitalize on the athletic apparel sector growth."
Foot Locker — The apparel retailer's stock dipped after a Piper Sandler downgrade to underweight.
—Fred Imbert
U.K. prime minister Boris Johnson told Parliament on Monday that the country's economic restrictions to slow the spread of the coronavirus pandemic will be lifted on Dec. 2. Johnson said the country will return to a "tiered system" of restrictions, with different rules in place for different areas depending on the level of infection.
Johnson is set to address the nation later Monday.
— Jesse Pound, Holly Elyatt
Major tech stocks came under pressure in early trading and pulled the Nasdaq Composite into negative territory. Shares of Apple and Facebook have lost 1.8% and 1.6%, respectively. Microsoft and Alphabet were also trading in negative territory. The index was down 0.1%.
— Jesse Pound
Business activity in the United States has continued to recover in November, according to IHS Markit. The firm's flash reading for the composite purchasing managing index came in at 57.9. Readings above 50 represent economic expansion. The indexes for services and manufacturing increased relative to October.
— Jesse Pound
Credit Suisse downgraded Kellogg to neutral from outperform.
Piper Sandler downgraded Foot Locker to underweight from neutral.
UBS downgraded Philip Morris to neutral from buy.
JPMorgan upgraded Gap to overweight from neutral.
Wells Fargo initiated Moderna as equal weight.
Needham raised its price target on Roku to $315 from $255.
Janney downgraded Vail to neutral from buy.
Wedbush raised its price target on Tesla to $560 from $500.
Pro subscribers can read more here.
— Michael Bloom
Stocks started off the holiday week with modest gains. The Dow rose 188 points, or 0.6%. The S&P 500 and Nasdaq Composite advanced 0.6% and 0.5%, respectively.
— Jesse Pound
Travel stocks got a boost early on Monday as more news over a potential coronavirus vaccine lifted hope of a strong economic recovery.
Delta Air Lines, American and Southwest were all up more than 1% in the premarket. Cruise operators Carnival and Norwegian Cruise Line rose more than 2% each, and Royal Caribbean traded higher by 1.8%.
—Fred Imbert
White house reportedly pushes for new measures against China 106800854
The Trump administration is weighing new hardline actions against China before President Donald Trump's term comes to an end, Dow Jones reported Monday, citing senior officials. The measures in consideration include an informal alliance of Western nations to retaliate jointly if China abuses its trading power, Dow Jones reported. U.S. stock futures took a leg down following the headline.
— Yun Li
Blackstone CEO Steve Schwarzman told Axios that the presidential election is over and that the "country should move on." Schwarzman, a close ally and supporter of President Donald Trump, was part of a group of CEOs that met earlier this month to discuss how to respond to Trump's failure to concede the election to Joe Biden. The Financial Times reported that Schwarzman defended Trump's effort to legally challenge the vote counts in several states during that meeting.
— Jesse Pound
Goldman Sachs cut its economic outlook for the current quarter and first quarter of 2021 amid a new wave of Covid-19 infections and fresh lockdown restrictions.
"The rapid and broad-based resurgence of the coronavirus has led us to downgrade our Q4 and Q1 GDP forecasts," Jan Hatzius, Goldman's chief U.S. economist, said in a note. "The pace of recovery would likely slow in the winter months, with a lack of fiscal support and a deteriorating virus situation pointing to significant downside risks."
The bank now expects a 3.5% annualized GDP growth in the fourth quarter, down from 4.5% previously. And the growth rate in the first quarter of 2021 is expected by the firm to be just 1%, compared to 3.5% previously.
— Yun Li
Regeneron's Covid-19 antibody treatment was authorized on Saturday for emergency use by the Food and Drug Administration. This treatment was taken by President Donald Trump when he contracted the virus.
"Authorizing these monoclonal antibody therapies may help outpatients avoid hospitalization and alleviate the burden on our health care system," said FDA Commissioner Stephen M. Hahn.
Shares of Regeneron were up by 3.6% in the premarket Monday.
—Fred Imbert, Berkeley Lovelace Jr.
The IHS Markit flash euro zone PMI composite output index came in at 45.1 for November, down from 50 in October firmly in contraction territory. The index, which measures both services and manufacturing activity, hit its lowest level in six months.
Readings below 50 represent a decline in business activity. The measure captures a new round of economic restrictions implemented to slow the spread of the pandemic in many countries including France and Germany.
— Jesse Pound, Silvia Amaro
Merck announced Monday it will acquire privately held OncoImmune for $425 million in cash, giving the company the rights to a drug showing promising results when used to treat hospitalized Covid-19 patients.
The drug, CD24Fc, reduced the risk of respiratory failure or death by more than 50% in patients hospitalized with Covid-19, Merck said.
"The results are remarkable," Merck's research chief, Dr. Roger Perlmutter, said in a telephone interview.
Merck shares were up nearly 2% in the premarket.
—Fred Imbert, Meg Tirrell
British pharmaceutical giant AstraZeneca on Monday said an interim analysis of clinical trials showed its coronavirus vaccine has an average efficacy of 70% in preventing the virus.
It comes after a string of encouraging vaccine results in recent weeks. Pfizer and Moderna reported preliminary results showing that their respective Covid vaccines were both more than 90% effective.
— Sam Meredith, Yun Li
U.S. stock futures kicked off the holiday shortened week with solid gains following the release of more positive data related to a potential coronavirus vaccine.
Dow Jones Industrial Average futures traded 179 points higher, or 0.6%. S&P 500 futures gained 0.5% and Nasdaq 100 futures advanced 0.3%.
AstraZeneca said its Covid-19 vaccine candidate had an average efficacy of 70%, with one dosing regimen showing effectiveness of 90%. The company is developing the vaccine with the University of Oxford.
That follows late-stage trial data from Pfizer-BioNTech and Moderna showing that their respective Covid-19 vaccines were around 95% effective. To be sure, the number of coronavirus cases continues to rise in the U.S., raising concern over more states and cities imposing lockdown measures.
—Fred Imbert
Copyright CNBCs - CNBC