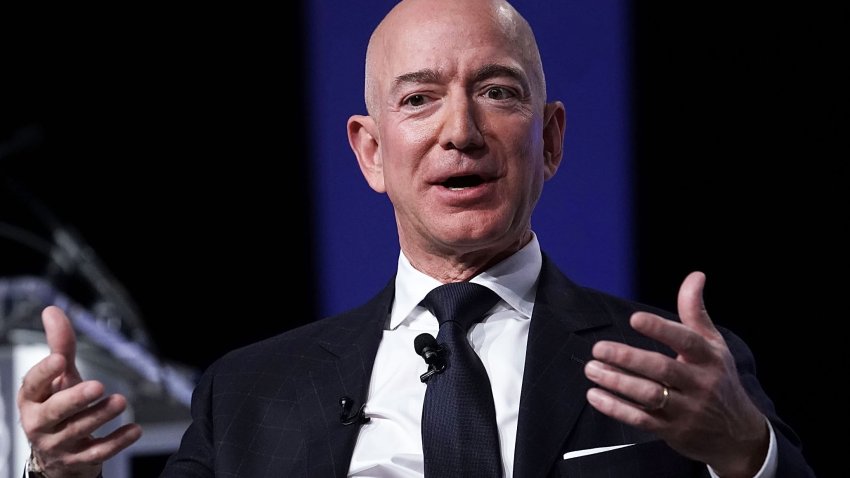 The Dow and S&P 500 declined on Tuesday, giving back some of their gains from Monday's record-setting session. Shares of pharmacy giants came under pressure, while weak retail sales data dampened sentiment. The Nasdaq Composite moved between gains and losses, bucking a recent trend that's seen investors rotate out of growth and into value, before ultimately closing in the red.
The Dow closed down 0.56% for its first negative day in three
The S&P 500 declined 0.48% for its first negative day in three
The Nasdaq Composite shed 0.21% for its first negative day in three
The Russell 2,000 hit a new all-time intraday high and closed at a record high
Dow Transports closed up 0.33% at a new record after hitting a new intraday all-time high
Nine out of 11 S&P sectors declined on Tuesday, led to the downside by utilities, which fell 2.02%.
— Gina Francolla, Pippa Stevens
The Dow and S&P declined on Tuesday for their first day of losses in three as stocks retreated from recent records. The Dow shed 166 points for a loss of 0.56%, while the S&P finished the session 0.48% lower. The Nasdaq Composite moved between gains and losses before ultimately ending the day with a loss of 0.21%.
— Pippa Stevens
Treasury yields hung near their lows for much of the day, as the market focused on the potential for the Fed to buy more longer duration debt in its asset purchase program.
Previously, strategists had speculated the Fed could increase the size of its Treasury buying program. But another theory is now getting attention. That is that the Fed could continue buying Treasurys at the pace of $80 billion a month but instead increase its purchases of Treasury securities at the longer end of the curve. That could help keep a lid on longer-term rates, which influence mortgages and other loans.
JPMorgan economists issued a note Monday saying Fed officials may be concerned about the increase in coronavirus cases, and they could want to act soon — at the December meeting. They could do it through tweaking the existing program, a suggestion made by Boston Fed President Eric Rosengren.
Fed Chairman Jerome Powell said after the Fed's last meeting that officials were generally pleased with the program but had discussed ways to change it. Traders are speculating some talk of that will show up in the Fed's meeting minutes, expected Wednesday afternoon.
The speculation helped create a flattening trade, where long end yields fall, relative to the short-end. The 10-year was yielding 0.87% Tuesday afternoon, while the 30-year was yielding 1.62%. Yields move opposite price. 
"I lean toward it's too early, but if the economy slows and there's no stimulus, the Fed, if it's been anything, has been proactive," said John Briggs, director of strategy at NatWest Markets. Briggs said only about 9% of the Fed's purchases are in the 10-year, 20-year and 30-year range, so they could conceivably double that.
JP Morgan economists added that some of the Fed's facilities expire at the end of the year, unless extended.
"The Federal Reserve Board may be running into legal and political challenges extending the various credit facilities beyond their current December 31st expiration date. If this remains the case this should further support the argument for the Fed doing more where it can operate with fewer constraints: in its asset purchase programs," they wrote.
--Patti Domm
The major averages were headed for slight losses with less than one hour left in the session as Wall Street's value-led rally took a breather. The Dow was down more than 150 points, or 0.5%. The S&P 500 dipped 0.4% and the Nasdaq Composite slipped 0.1%.
—Fred Imbert
Warren Buffett's Berkshire Hathaway could be scooping up shares of a certain company secretly. Its quarterly 13F regulatory filing released Monday evening had a line that stated "confidential information has been omitted from the public Form 13F report." The last time the conglomerate used this confidential provision was in 2015 when it bought Phillip 66.
— Yun Li
Shares of JPMorgan slid 1.7% in early afternoon trading Tuesday after gaining 2.8% in the previous session on the back of the positive vaccine news. The stock is still down more than 17% in 2020 as financials took a big hit this year by ultra-low interest rates and the pandemic.
Berkshire Hathaway revealed in a filing Monday evening that it sold most of its longtime JPMorgan position, cutting the stake by 96% to less than 1 million shares worth $93 million from 22.2 million shares.
— Yun Li
SPACs, or special purpose acquisition companies, have raised a record $54 billion so far this year, more than quadrupling last year's volumes of $13 billion, according to Goldman Sachs. Blank-check deals have also accounted for one-third of all U.S. IPO activity since the start of 2019, Goldman said.
Many attributed to this year's historic activity in the SPAC space to the coronavirus pandemic which brought on uncertainty and volatility in the traditional IPO market. Meanwhile, some believe SPACs are a more speedy and efficient way of taking companies public. Earlier this year, Bill Ackman's Pershing Square Tontine Holdings raised more than $4 billion to become the largest SPAC in history.
— Yun Li
SoftBank CEO and founder Masayoshi Son said Tuesday the investing conglomerate spend much of the year selling assets in order to sustain liquidity in the case of a second coronavirus wave and further economic damage from the pandemic.
"In the next two or three months, any disaster could happen," Son said at The New York Times' Dealbook Conference. "So we're just preparing for the worst case scenario."
Son said he initially targeted about $40 billion of asset sales this year but ended up selling off about $80 billion of companies to give the company liquidity in case of a global emergency. Among its largest asset sales, SoftBank sold semiconductor company ARM to Nvidia for $40 billion and about $20 billion of its stake in the new T-Mobile, which merged with Sprint earlier this year. 
— Alex Sherman, Maggie Fitzgerald
Value stocks have rallied recently following positive news on the coronavirus vaccine front, but recent history shows their uptrend is typically short-lived. Goldman Sachs looked at market data going back to 2009 and found that cheap stocks tends to rally alongside a rising equity market and their rallies typically last only two to three months. The longest stretch of outperformance occurred in July 2012 and it lasted for 13 months, according to Goldman.
— Yun Li
The U.S. stock market took a breather on Tuesday, a day after the Dow and S&P 500 posted record closing highs. The Dow traded more than 180 points lower, or 0.6%. The S&P 500 dipped 0.4%. The Nasdaq Composite traded 0.3% lower. Those losses were sparked by broad declines in drug store stocks as well as a disappointing batch of U.S. retail sales data.
—Fred Imbert
Square — Shares of the payments company popped more than 5%, on pace for its best day since November 11. Square got a boost from positive commentary from Mizuho Securities analysts.
Farfetch— Shares of Farfetch rose 2% after Morgan Stanley initiated coverage on the luxury online fashion retailer with an overweight rating. 
Charles Schwab — Shares of the e-broker gained nearly 2% after Citigroup upgraded the stock to buy from neutral. Citi also hiked its 12-month price target on Schwab to $54 per share from $44 per share.
Read more about midday movers here.
— Maggie Fitzgerald
U.S. homebuilder confidence soared to an all-time high last month, with the NAHB Wells Fargo Housing Market Index hitting 90 for the first time.
"Historically low mortgage rates, favorable demographics and an ongoing suburban shift for home buyer preferences have spurred demand and increased new home sales by nearly 17% in 2020 on a year-to-date basis," said NAHB Chairman Chuck Fowke.
"Though builders continue to sign sales contracts at a solid pace, lot and material availability is holding back some building activity. Looking ahead to next year, regulatory policy risk will be a key concern given these supply-side constraints," Fowke said.
—Fred Imbert, Diana Olick
RBC upgraded Chevron to sector perform from underperform.
Telsey upgraded Home Depot to outperform from market perform.
Jefferies initiated Southwest Airlines as buy.
Barclays initiated Allstate and Travelers as overweight.
Citi upgraded Charles Schwab to buy from neutral.
Morgan Stanley downgraded Sprout Social to equal weight from overweight.
Loop initiated DraftKings as buy.
Wells Fargo upgraded VF Corp and Under Armour to overweight from equal weight.
BMO downgraded Moderna to market perform from outperform.
Citi added a positive catalyst watch on Elanco.
HSBC downgraded Las Vegas Sands to hold from buy.
Morgan Stanley initiated Farfetch as overweight.
Pro subscribers can read more here.
- Michael Bloom
U.S. equities opened in negative territory on Tuesday after retail sales increased less than expected in October. The Dow Jones Industrial Average fell 275 points, after notching a record close on Monday. The S&P 500 lost 0.6%. The Nasdaq Composite ticked 0.08% lower.
— Maggie Fitzgerald
U.S. retail sales increased less than expected in October amid rising coronavirus cases. The Commerce Department said on Tuesday retail sales rose 0.3% last month, versus a 0.5% gain expected by economists polled by Dow Jones. Stock futures extended losses following the data release. Dow futures last traded down 270 points.
— Yun Li
Amazon launched its new pharmacy service on Tuesday, sending the stocks of
drug store chains tumbling
Amazon Pharmacy is available in 45 states and offers online ordering and delivery of prescription drugs. Shares of Amazon rose by more than 2% in premarket trading.
— Jesse Pound
Shares of Home Depot dipped 2% in premarket trading Tuesday morning after the company reported higher costs and a plan to spend $1 billion to make permanent its Covid-era worker pay increases.
Though the home-improvement retailer saw healthy same-store revenue growth of 24% in the quarter ended Nov. 1, the elevated sales also sparked higher costs. The cost of sales, a measure of the company's expenses to make a sale, is up 24% from a year ago.
Oppenheimer analyst Brian Nagel said the stock's weakness could be thanks to concerns that Home Depot's sales gains during the pandemic aren't sustainable. He added that the compensation plans Home Depot is offering is "one more indication" that it's more expensive to operate as a retailer during the pandemic.
Still, Home Depot has seen rapid growth in its business since the pandemic hit the U.S. as consumers reroute household spending toward at-home improvement projects and repairs. The company announced on Monday that it would buy building products distributor HD Supply Holdings.
Home Depot stock is up 28% this year through Monday's close, well ahead of the S&P 500's 12.2%.
—Thomas Franck
The U.S. is grappling with a surge in new coronavirus cases as the country heads into a tough winter. The country has now recorded more than 11 million Covid-19 cases, tallying 1 million new cases of the virus in under a week. There has been close to 150,000 new cases each day, on average, according to a CNBC analysis of Johns Hopkins data.
California Gov. Gavin Newsom on Monday said his state is "pulling an emergency brake" on the reopening process, placing almost all of California in the most restrictive tier. Nearly every California county, or 94% of California's population, has been moved backward due to a significant change in transmission statewide, Newsom said.
— Yun Li
Shares of big box retailer Walmart ticked nearly 1% higher in premarket trading on Tuesday after beating on the top and bottom lines of its quarterly earnings. Walmart reported earning of $1.34 per share on revenue of $134.71 billion. Wall Street was expecting earnings of $1.18 per share on revenue of $132.2 billion, according to Refinitiv. Same-store sales, excluding fuel, rose 6.4%, compared to analyst estimated of 3.9% growth.
Walmart's U.S. e-commerce sales soared by 79% in the third quarter, as customers continued to shop online during the coronavirus pandemic. "We think these new customer behaviors will largely persist and we're well positioned to serve customers with the value and experience they're looking for," Walmart CEO Doug McMillon said in a news release.
— Maggie Fitzgerald
Shares of Tesla jumped 14% during premarket trading on Tuesday after S&P Dow Jones Indices said Monday night that the electric vehicle company will join the S&P 500. Speculation had been growing that Tesla would soon join the benchmark index after it first qualified for inclusion in July, but the company was passed over during the index's September quarterly rebalance.
Given Tesla's size — its market cap stood at $387 billion as of Monday's close — S&P Dow Jones Indices said it was considering whether to add the company all at once, or in two separate tranches.
Tesla will join the S&P 500 prior to the open on Dec. 21. The company that it will replace has not yet been announced.
— Pippa Stevens
Futures tied to the Dow Jones Industrial Average and the S&P 500 fell early Tuesday a day after both benchmarks closed at records. Dow futures dipped 155 points, indicating an opening loss of about 170 points. S&P 500 futures fell 0.4%. Meanwhile, Nasdaq 100 futures gained 0.3%, boosted by a 2% jump in Amazon shares in premarket trading.
— Yun Li
Copyright CNBCs - CNBC