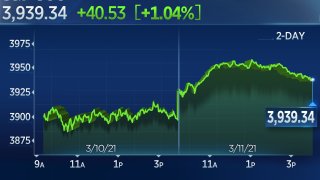 U.S. stocks climbed to record highs Thursday as the comeback in tech shares resumed, while the signing of additional fiscal stimulus gave sentiment a further boost.
The S&P 500 jumped 1% to 3,939.34, hitting a new closing high and retaking its previous record from Feb. 16. The Nasdaq Composite climbed 2.5% to 13,398.67 amid a rotation back into tech. Tesla popped 4.7%, while Apple, Facebook, Alphabet and Netflix all advanced at least 3%. The Dow Jones Industrial Average added 188.57 points, or 0.6%, to 32485.59. Earlier in the session, the blue-chip benchmark gained more than 300 points to hit an intraday record high.
President Joe Biden signed a $1.9 trillion coronavirus relief package into law Thursday afternoon. The plan will send direct payments of up to $1,400 to most Americans, and will also put nearly $20 billion into Covid-19 vaccinations and $350 billion into state, local and tribal relief. The White House said Thursday that stimulus checks could start hitting bank accounts this weekend.
"The stimulus is beating the virus at least as far as the market is concerned," said Scott Ladner, chief investment officer at Horizon Investments. "And real rates being near negative is just historically a very strong tailwind for asset prices. That can get ignored on a day-to-day basis especially when people become concerned that inflation is going to rear its head, but at the end of the day, inflation is just coming back to normal."
Tech and growth stocks are rebounding from a swift correction triggered by rising interest rates. Higher rates make profits in far-off years seem less attractive to investors and can knock down stocks with relatively high valuations.
Chip stocks jumped sharply Thursday after China's semiconductor trade association formed a new group to work with their U.S. counterparts to ease recent trade tensions between the two countries. Nvidia and AMD jumped more than 4% each, while Xilinx popped 6.2%.
The Nasdaq Composite dipped into correction territory on Monday, falling more than 10% from its recent high. Now the tech-heavy benchmark is about 5.5% off that high.
The 10-year Treasury yield, which had retreated from its recent high of 1.6%, was little changed at 1.52% on Thursday.
On the data front, investors cheered a slightly better-than-expected reading on weekly jobless claims. The Labor Department reported that first-time filings for unemployment insurance in the week ended March 6 totaled a seasonally adjusted 712,000, below the Dow Jones estimate of 725,000.
"The drop in jobless claims is another win for the week, and a solid sign that we're making some strides toward pre-pandemic life," said Mike Loewengart, managing director of investment strategy at E-Trade Financial. "There's a pretty optimistic picture being painted despite some of the inflation-related market jitters we've seen over the past few weeks."
The economic reopening, coupled with additional fiscal stimulus, accelerated the rotation into more cyclical sectors, such as energy. The S&P 500 energy sector has been the biggest winner this year, up nearly 40% so far.
Copyright CNBC