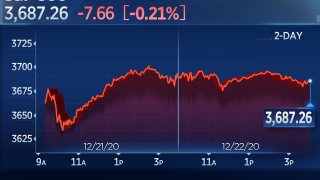 The S&P 500 fell for a third straight session on Tuesday even after Congress approved a long-delayed coronavirus relief package.
The broad equity benchmark dipped 0.2%, or 7.66 points, to 3,687.26 in relatively thin trading. The Dow Jones Industrial Average slipped 200.94 points, or 0.7%, to 30,015.51. The Nasdaq Composite eked out a 0.5% gain to close at 12,807.92, a new record. The tech-heavy index was supported by a 2.9% jump in Apple shares amid investor enthusiasm around its reported foray into self-driving vehicles.
Equity investors could be taking chips off the table after registering solid gains in 2020. With less than two weeks left, the S&P 500 is up more than 14% for the year, while the 30-stock Dow has gained over 5%. The Nasdaq Composite has soared 42.7% this year as traders stuck with their tech darlings during the pandemic.
Congressional leaders attached $900 billion in pandemic aid to a $1.4 trillion measure to fund the government through Sept. 30. President Donald Trump is expected to sign it into law in the coming days, weeks before he will leave office. Treasury Secretary Steven Mnuchin told CNBC on Monday that Americans could receive their stimulus checks in a matter of days.
"The passage of this package only solidifies that there are massive structural tailwinds on the economy and markets as we enter 2021, which is longer-term positive for cyclicals and value styles (and the markets more broadly)," Tom Essaye, founder of Sevens Report, said in a note on Tuesday.
Travel-related stocks came under pressure once again amid lingering concerns about a new variant of Covid-19 in the U.K. Many European countries implemented travel restrictions on visitors from the U.K., and New York Gov. Andrew Cuomo called for the United States to take similar steps.
American Airlines dropped 3.9% and United fell 2.5%. Carnival fell nearly 6%, while Royal Caribbean dipped nearly 3%. Norwegian Cruise Line slid 6.9%
However, many experts, including those from the World Health Organization, said that the coronavirus vaccines from Pfizer and Moderna would likely be effective against the new variant and that Covid was mutating at a slower pace than the seasonal flu.
"[The] new COVID-19 variant [is] unlikely to impact near-term therapeutics, return to normal," Geoff Meacham, Bank of America research analyst said in a note, we don't expect this new variant to derail ongoing treatment efforts — including vaccines."
Still, many believe volatility will remain elevated into the new year.
Jonathan Golub, Credit Suisse's chief U.S. equity strategist, said on "Closing Bell" that he expected continued choppiness in the economy and markets in the months ahead before a surge in consumer spending in the middle of 2021.
"I don't think that there's a smooth, easy straight-line story on this," Golub said. "I think for the next three or four months, the reopening process is going to be sloppy."
On the data front, a final reading showed third-quarter gross domestic product grew 33.4% on an annualized basis, compared to 33.1% expected. Meanwhile, U.S. consumer confidence fell for the second straight month in December and missed expectations.
Subscribe to CNBC PRO for exclusive insights and analysis, and live business day programming from around the world.
Copyright CNBC