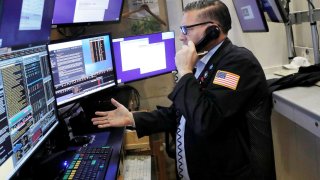 Stocks edged lower on Tuesday as the S&P 500 wrapped up its seventh-straight month of gains at just below all-time highs.
The Dow Jones Industrial Average slipped 39.11 points, or 0.11%, to close at 35,360.73. The S&P 500 lost 0.13% to finish at 4,522.68, while the Nasdaq Composite was down just 0.04% to 15,259.24.
Tuesday marked the last trading day of August, and major averages posted solid gains for the period. The S&P 500 rose 2.9% this month, while the tech-heavy Nasdaq Composite climbed roughly 4% for its third winning month in a row. The blue-chip Dow lagged but still added 1.2%.
For the S&P 500, this is the longest winning streak since a 10-month run ending in December 2017. August was also the benchmark's 9th positive month in the last 10. The index notched its 53rd record close of 2021 on Monday, and some on Wall Street believe more upside is ahead.
"We believe that the momentum toward reopening and recovery is intact and that there is further upside to equities," wrote Mark Haefele, chief investment officer of global wealth management at UBS, in a note. "The S&P 500 rally is underpinned by robust earnings growth ... With the economic recovery broadening, we expect cyclical sectors, including energy and financials, to take the lead."
Haefele sees the S&P 500 rising another 1.6% from here to 4,600 by year-end and then running to 5,000 by the end of 2022.
The strong run for the S&P 500 has come even as the delta variant of Covid-19 has raised concerns about the path for the economic recovery. On Tuesday, Google-parent Alphabet pushed back its voluntary return to office to January from mid-October.
"August is proving to be a month not too dissimilar to every other month this year except January: stocks gained ground. And the ~3% gain is actually only about average for a market that has gained 20% now [year to date]. But the move higher in stocks this past month came amidst some interesting trends that traditionally have not provided a good backdrop for risk assets," Chris Hussey from Goldman Sachs said in a note to clients.
Ten out of 11 sectors rose in August, led by financials with a gain of 5%. All sectors are positive for the year.
The S&P 500 was split roughly even between rising and falling stocks on Tuesday. Apparel company Nike was one of the biggest losers in the Dow, falling nearly 2%. Materials stocks including Nucor and chemical company Dow also struggled.
Zoom shares fell about 16% on Tuesday after the video-conferencing software company showed slowing revenue growth in the second quarter, weighing on the Nasdaq. Shares of Apple also declined, but Amazon's stock rose 1% to help offset those losses for the broader markets.
Shares of Wells Fargo fell more than 5% in afternoon trading after Bloomberg News reported that the bank could face further sanctions as regulators are upset about the pace of progress in compensating victims of Wells Fargo's previous scandals. Wells Fargo declined to comment to CNBC.
The S&P 500's 20% gain this year has come without even a 5% pullback. The broad equity benchmark has more than doubled since its pandemic low in March 2020.
Stellar corporate earnings have provided valuation support and the basis for stock prices to march higher. With the second-quarter reporting season winding down, the S&P 500 is on track to post an earnings growth rate of 95.4%, which would be the largest increase since the fourth quarter of 2009.
"We believe we're still in the early innings of the cycle and that strong economic and earnings growth and relatively low rates through 2022 should support higher equity prices and sustain the bull market," Wells Fargo strategists said in a note.
Investors are awaiting a key jobs report on Friday ahead of the Labor Day weekend. Economists polled by Dow Jones expect 750,000 jobs were created in August and the unemployment rate fell to 5.2%.
-CNBC's Michael Bloom and Christopher Hayes contributed to this report.
Copyright CNBC