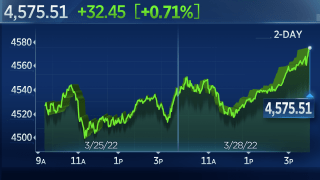 The S&P 500 rose on Monday, extending two weeks of gains, as investors shook off recession concerns and bid tech shares higher.
The Dow Jones Industrial Average rose 94.65 points to 34,955.89. The S&P 500 gained 0.7% to 4,575.52. The technology-focused Nasdaq Composite added 1.3% to 14,354.90, thanks to a 8% jump in Tesla. The S&P 500 hit its high of the session as crude oil hit its low of the day, down more than 11%.
Oil prices fell on Monday following their recent surge due to the geopolitical conflict. U.S. West Texas Intermediate (WTI) crude futures slid about 7% to settle at $105.96. Brent crude futures settled nearly 7% lower at $112.48 per barrel.
Energy stocks slid alongside the price of oil. Chevron and Exxon Mobil fell about 1.8% and 2.8%, respectively.
Tesla led technology shares higher after the EV maker said it wants to split its stock to pay a stock dividend. Tesla popped 8%. Other tech shares, which as a group have been among the worst performers so far this year, gained as well with Microsoft and Amazon higher.
Also boosting sentiment, the Cboe volatility index, known as Wall Street's fear gauge, closed below 20 for the first time since Jan. 14.
Major averages struggled to start Monday after a part of the Treasury yield curve briefly inverted overnight, raising some recession fears. The yield on the 5-year Treasury note rose to 2.6361%, while the 30-year yield was down less than 1 basis point to 2.6004%. The spread ended the day negative, with the 30-year yielding below the 5-year for the first time since March 2006.
The main yield spread that traders watch — the spread between the 2-year and the 10-year rate — remained positive for now.
Bank stocks ticked lower on Monday as the yield curve flattened. JPMorgan lost 0.7%, and Wells Fargo fell 1.4%.
"With the backdrop of it being quarter-end this week and all the noise associated with that, stocks are hanging in there in the face of the rapid rise in interest rates across the yield curve," said Peter Boockvar, chief investment officer at Bleakley Advisory Group.
Investors continue to monitor developments in Russia's war on Ukraine. Peace talks between the two nations are set to continue this week, with delegations from both countries traveling to Turkey on Monday. Kremlin spokesperson Dmitry Peskov told reporters that discussions were likely to resume Tuesday.
The Dow and S&P 500 closed out their second consecutive winning week on Friday, erasing more losses since Russia invaded Ukraine in late February.
"Geopolitical risks remain very elevated and the rally in equities over the past two weeks is impressive. The U.S. economy is still in good shape, but buying every stock market dip probably won't be the attitude for most traders going forward given how hawkish the Fed has turned," said Edward Moya, senior market analyst at Oanda. 
Investors continue to keep a close eye on the Fed. Wall Street firms from Goldman Sachs to Bank of America penciled in half-point hikes in future Fed meetings this year after the central bank's chair Jerome Powell vowed to be tough on inflation and said rate increases could become more aggressive if necessary.
The closely watched monthly jobs report release happens on Friday. Economists expect 460,000 jobs were added in March and the unemployment rate fell to 3.7%, according to Dow Jones. That compares to the 678,000 nonfarm payrolls added in February and an unemployment rate of 3.8%.
-CNBC's Gina Francolla contributed to this report.
Copyright CNBC