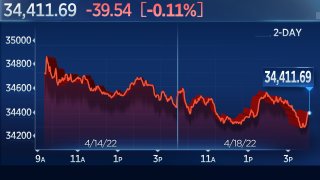 The Dow Jones Industrial average fell slightly to start a big week of earnings for the market, while traders kept an eye on surging rates and commodities.
The Dow Jones Industrial Average slid 39.54 points, or 0.1%, to 34,411.69. The S&P 500 dipped 0.02% to 4,391.69. The Nasdaq Composite lost 0.1%, falling to 13,332.36.
Stocks whipsawed in a rollercoaster session Monday after the 10-year Treasury yield reached its highest level since late 2018, trading at 2.884% at one point. The yield was at 1.71% to begin March, but has shot higher as the Federal Reserve pivoted to a more aggressive tightening stance. That change has weighed on stocks and triggered concerns about an impending recession.
"The big concern is how consistently and how far the 10-year note will rise," said Sam Stovall, CFRA's chief investment strategist. "Nothing is really new on the Ukraine front, nothing is really new on the inflation front, the Fed is expected to raise by 50 basis points at its next meeting. So really, the question is, what are the bonds doing?"
Rising commodity prices on Monday heightened concern about inflation and how companies will deal with rising costs in forward guidance. Corn reached a 9-year high on Monday and natural gas surged to the highest since 2008.
Mega cap tech including Meta Platforms, Amazon, Microsoft and Alphabet finished the day higher after wavering back and forth over the flat line throughout the trading session.
"Volatility in the bond market is simply too high right now, keeping investors that would otherwise capitalize on the recent increase in long term bond yields on the sidelines," Zachary Hill, head of portfolio management at Horizon Investments, told CNBC. "Until bond market volatility subsides, we expect mega cap tech and the most expensively valued growth sectors of the equity market to remain under pressure."
Investors were preparing for a big week ahead of company earnings. Stovall noted defensive and inflation hedge stocks have seen an improvement in earnings expectations, while growth areas have seen reductions in first quarter estimates. Those reductions have been minor however, he added, saying it's too early to make major revisions.
"Right now the market is correcting in time," Stovall said. "The market can correct in time or in price, and if it's done in time, it means that it's allowing earnings to catch up."
Charles Schwab was the top decliner in the S&P, posting a 9.4% loss after the discount broker reported weaker-than-expected earnings and revenue for the first quarter. Bank of New York Mellon shares fell 2.2% after the company reported lower profits for the first quarter.
Bank of America's quarterly results, reported Monday, showed a 13% year-over-year drop in earnings per share, though the results were slightly higher than expected. The stock gained 3.4%, helping shares of fellow big banks JPMorgan Chase and Wells Fargo rise more than 1% each.
Technology bellwethers are set to report quarterly earnings this week, with Netflix due on Tuesday and Tesla out on Wednesday. Snap reports Thursday. United Airlines, American Airlines and Alaska Air are also on the calendar, as are railroads CSX and Union Pacific. Several Dow blue-chip names also report earnings this week, including IBM, Procter and Gamble, Travelers, Dow Inc, Johnson and Johnson, American Express and Verizon.
Investors will be paying close attention to forward guidance, especially for comments on how companies are handling surging costs. March's consumer price index reading released last week showed an 8.5% increase from a year ago, the fastest annual gain since December 1981.
Earnings season is off to a OK start with 81.5% of S&P 500 companies reporting earnings per share above expectations according to FactSet. About 7.5% of the benchmark has reported results so far and analysts believe first-quarter earnings will jump 5.3% for the quarter when all S&P 500 companies finish reporting, according to FactSet's analysis of actual results and future estimates.
Morgan Stanley analysts say earnings reports for the first quarter could end up being more disappointing that expected.
"Earnings revisions breadth for the S&P 500 has resumed its downtrend over the past two weeks and is once again approaching negative territory," the firm's equity strategist Michael Wilson said in a note Monday. "The Morgan Stanley Business Conditions Index (a survey of our industry analysts) fell to its lowest level since April of 2020, and margin expectations look overly optimistic for the balance of '22 given the myriad of cost pressures companies face."
Elsewhere, Twitter shares were up 7.4% at $48.45 per share. The move came after Twitter announced Friday that the board adopted a limited duration shareholder rights plan, often referred to as a "poison pill" as Elon Musk tries to buy the company.
—With reporting by CNBC's Patti Domm, Hannah Miao and John Melloy.
Copyright CNBC