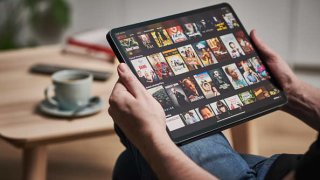 Netflix's new French crime drama "Lupin" is set to become one of the streaming giant's most-watched original series ever.
The show — which stars French actor Omar Sy as a thief and master of disguise looking to solve the mystery of a stolen necklace — premiered on the streaming platform on Jan. 8 and Netflix is already projecting it will be viewed by roughly 70 million households within 28 days of launching, according to Variety.
Sy tweeted about the show's initial success on Tuesday:
Netflix's projections for "Lupin" would make the show the second most-watched season of an original series ever on Netflix, based on the streaming platform's own viewership numbers.
Netflix's viewership numbers should be taken with a grain of salt, as the streaming company only sporadically releases those statistics and Netflix also counts viewers as any subscriber who has watched at least two minutes of any given series. (Netflix has argued in the past that its viewership counting methods are similar to those of other online video platforms, like Google's YouTube.)
Earlier in January, Netflix had announced that Hollywood mega-producer Shonda Rhimes' first Netflix series, the 19th century period drama "Bridgerton," was on pace to be viewed by 63 million households in its first four weeks since premiering online on Christmas. (Rhimes signed a multiyear contract with Netflix in 2017 worth a reported $150 million for her production company, Shondaland.) 
According to Netflix, the early results for limited series "Bridgerton" would make the show its fifth most-watched original series debut ever. However, the sterling debut of "Lupin" would knock "Bridgerton" out of the top five, based on Netflix's own viewership projections.
Since it was released on Dec. 25, this Friday will be the four-week mark since "Bridgerton" debuted on Netflix, but the company has not released any updated viewership numbers for the series since first projecting it would reach 63 million households in its first 28 days. (Netflix did not immediately respond to CNBC Make It's request for updated numbers.)
Don't miss: The best cash-back credit cards with no annual fee
Netflix did not specify which of the streaming platform's four original series ranked ahead of "Bridgerton" in terms of initial viewership, but Newsweek pointed out that the company has previously released viewer counts for other streaming hits. (For instance, in 2019, Netflix said that over 105 million subscribers had watched at least one episode of "Orange is the New Black" during that show's seven-season run, making it the company's most-watched original series ever overall.)
Netflix has also released initial viewership counts to tout the big debuts of other original content, such as another 2020 hit, limited series "The Queen's Gambit," which the company said scored 62 million viewers in the show's first four weeks.
With that in mind, here are the five Netflix original series to land the biggest launches on the streaming platform, based on the first four weeks' viewership numbers previously released by the company.
5. 'Tiger King': 64 million
"Tiger King: Murder, Mayhem and Madness," the viral eight-episode documentary series about breeders of big cats, inspired over 64 million people to tune in for at least two minutes, based on Netflix's metrics, when the show debuted in March.
4. 'Stranger Things' Season 3: 64 million
The third season of the hit sci-fi series premiered in July 2019 and quickly became the show's most-watched season debut, with over 64 million people tuning in within four weeks of the season becoming available to stream, Netflix said.
3. 'Money Heist' Season 4: 65 million
The fourth season of the foreign crime drama (known as "La Casa de Papel" in Spain), about thieves attempting to rob the Royal Mint of Spain, premiered on Netflix in April and the company said that 65 million households checked out the season.
2. 'Lupin': 70 million
The show has been well-received by viewers and critics, as it currently sports a 93% rating on reviews aggregator Rotten Tomatoes. "Lupin" is Netflix's most successful original series to come out of France, but it is also found an audience around the world, with Variety reporting that the series has the top spot in Netflix's Top 10 rankings in multiple countries, including Brazil, Vietnam, Argentina, Germany, Italy, Spain, the Philippines and Sweden.
1. 'The Witcher': 76 million
After eight-episode series "The Witcher" debuted in December 2019, Netflix touted the fantasy epic as "our biggest season one TV series ever" in a letter to shareholders, with 76 million households tuning in for at least two minutes of the show within the first four weeks.
Update: This article has been updated with newly released viewership projections from Netflix.
Don't miss: New Amex Blue Cash Preferred Card members can earn a $300 statement credit and benefit from an intro $0 annual fee
35-year-old brothers who created 'Stranger Things' got rejected by over 15 networks before Netflix said yes
Netflix didn't kill Blockbuster — how Netflix almost lost the movie rental wars
Copyright CNBCs - CNBC