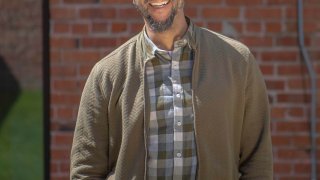 As tech talent remains in high demand, Damon Packwood, founder and executive director of Gameheads, a nonprofit teaching tech and video game design skills, is making sure that underserved youth has the tools necessary to get jobs in the field.
From a "working-class, low-income community" in San Francisco, Packwood, 35, worked hard to become the first in his family to go to college via the Upward Bound program. He found himself doing college access and youth development work shortly after graduating, but noticed that there was one thing that all his students were obsessed with. 
"I started noticing that the students were different around 2007-2008. They were all on the computer. They were finishing assignments quicker, and we realized that they were getting their resources from the computer," Packwood explains to CNBC Make It. "I was a film studies major, so I knew about media. But they were really tapped into media without being media literate, [doing things like] getting new music and finding the latest movies online, which was fascinating."
At that moment, Packwood recognized that he and his colleagues needed to switch gears.
"We weren't digital natives, we didn't really know what was going on. And there was a point where I realized, 'Oh, my God, we're starting to sound like old people.' I told everybody that we need to change what we're doing right now or we're going to be obsolete, because what [the students] are doing is different. And they said no. So I quit."
Years later that experience inspired him to create a space that gives low income youth and young people of color the training and resources necessary to strengthen their IT, production, design, and media skills through video games. 
Founded in 2015 and based in Oakland, CA, Gameheads has provided free classes, mentorship, equipment, and soft/hardware to hundreds of high school and college-aged students. 
Here's how Packwood started his entrepreneurship journey, how he looks at partnerships and his advice for others seeking to do work that they love.
'Stop complaining and do something about it'
In 2011, Packwood started graduate school at California State University, and he says the tech diversity movement in California was just starting to kick off, citing the launches of Black Girls Code, Van Jones' #YesWeCode, and Impact Oakland.
But teaching tech skills through video games was still uncharted territory.
"Nobody was focused on video games," Packwood says. "And teaching game design to low-income students of color has value because when you break apart a video game, you get these different medias. You get sound design, level design, architecture, coding, project management, art and animation, and motion picture. When you look at like the talent that people of color have, many of those are our natural talents."
Packwood says that the urge to start his own company came from one of his professors.
"It was my professor who said 'you need to do strength-based learning.' You can't put students in a class and say 'you've never looked at code, but I'm gonna teach you how to code.' You've got to put them in a class where they're somewhat familiar with it for you to grab their attention. And then after a while, this very wise man told me I should stop complaining and do something about it. So I created Gameheads."
'Expand the way you think about partnerships'
Like many entrepreneurs, Packwood has been able to grow his business by partnering with other brands. Companies like EA, Oculus, and XBOX are all featured partners on the Gameheads website. And though some of his partnerships help bring in funding, Packwood says there's so much more to these business relationships than money.
"I see a lot of people make the mistake of wanting to create something but before they do, they want somebody to give them money. If you're thinking about the value of a partnership by a check, you're doing something wrong."
Packwood encourages entrepreneurs to broaden their view of what these types of collaborations can look like. He says that people and companies sharing their time, insight, and resources can also count as partnerships.
"When people volunteer their time, there's value in that. And there are some partnerships we have where they just give us books, laptops that they're not using anymore or video game consoles that they don't need anymore. That's 200-300 dollars [in equipment] for a young person who's trying to get into gaming, but doesn't have the resources."
"I would tell people to expand the way they think about partnerships. Most people just want a partner to write them a check, or teach a class. If you expand, you'll find yourself making more partnerships. And then that's when the funding will start coming in, because people now enjoy working with you because they see the impact."
'Do the thing that you would do for free.'
For Packwood, turning his passion for youth development into a career was a no-brainer. His advice for people seeking happiness in their professional lives is to "do the thing that you're just going to be doing anyway."
"I'll go to people and say, 'look, do you want to partner on this? Because if you don't, that's cool, I'm gonna do it anyway. It's going to work, so do you want to be a part of it or not?' If you approach something with that kind of passion, you're always going to enjoy yourself."
And on whether or not he feels like Gameheads has "made it," Packwood says there are a few announcements to come in 2023, and if they get made, "we will have established ourselves."
"But, do I personally feel like I've made it? Yes. I've got an amazing family. I love my job. My wife is awesome. My daughter is the cutest thing in the world. I've got a video game center filled with toys that when I was 10, I was lucky if I had one of those things. And I get to see kids come in and have fun with all of these toys and stuff that we have. So I can't say Gameheads has made it, but I know I have."
Check out:
10 corporate buzzwords that show up in job listings the most—and how to use them to land a role
Want to sound smarter at work? Avoid these 10 pretentious phrases
80% of workers who quit in the 'great resignation' have regrets, according to a new survey
Sign up now: Get smarter about your money and career with our weekly newsletter
Copyright CNBCs - CNBC