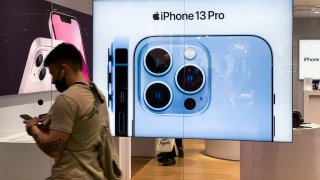 From your pocket to your garage, Apple is reportedly pushing forward with plans to develop a fully autonomous car.
Those reports moved the stock to record highs on Thursday for the first time since September. Shares are up 8% over the past month, outpacing the S&P 500's 5% gain but still short of the broader market's rally this year.
Apple could now indicate whether Santa Claus pays a visit to Wall Street this year, according to Miller Tabak chief market strategist Matt Maley.
Speaking to CNBC's "Trading Nation" on Thursday, Maley says any pullback in high-flying tech stocks such as Nvidia and AMD could either help or hurt Apple.
"My concern was or is that these stocks [like Nvidia] will start to pull back simply for technical reasons… and that might get the whole tech group to pull back," Maley said. "But if instead, this money that comes out of those names will roll in into other names like Apple… that's going to be very bullish."
Maley needs to see Apple hold above the $157 level, its September highs, to confirm that this breakout has legs.
"That will show that indeed we're just going to see a rotation within the tech sector, not a rotation out of the tech sector, and that should provide for a real nice rally into the end of the year," said Maley.
Apple is one of the largest stocks within the S&P 500 at a roughly $2.6 trillion market cap. The stock has a larger-than-average impact on which way the broader index moves given its market weighting.
Nancy Tengler, chief investment officer at Laffer Tengler Investments, holds the stock and cheers the reports of Apple diversifying into the autos space.
"It just is another leg up of innovation that's so important and that we're seeing across technology. We've owned the stock since 2013 when it was "just a handset company" and we've enjoyed the benefits of innovation," Tengler said during the same interview.
Since the firm became a shareholder, for example, Apple has introduced multiple newer models of the iPhone and iPad, the Apple Watch, Apple TV, and Air Pods.
"They're kind of like Microsoft about three or four years ago where they're really hitting on all cylinders and we think it's an expensive stock so we've reduced our exposure, but we still own it. We still like the story," said Tengler.
Disclosure: Laffer Tengler Investments holds AAPL.
Copyright CNBCs - CNBC