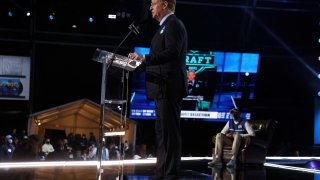 Opening night of the 2021 NFL Draft was down compared to last year's all-virtual event but also the second-highest viewed ever.
The National Football League's opening night of its annual draft event averaged 12.6 million viewers across three networks including ESPN and ABC.
It didn't top last year's all-time high of 15.5 million viewers, but it was up 11 percent compared to 2019 draft (11.4 million). Prior to last year, the all-time high was 12.4 million viewers in 2014.  The 2020 NFL Draft was an all-virtual event due to Covid-19.
The Jacksonville Jaguars drafted ex-Clemson quarterback Trevor Lawrence with the 2021 first overall pick, followed by the New York Jets taking BYU's Zach Wilson. Overall, five quarterbacks were selected in the first round and 18 offensive players. It's the most since teams drafted 19 offensive players in 2009.
This year's draft returned to a live event format on public grounds in Cleveland. A vaccinated Roger Gooddell embraced players who were drafted, and the NFL commissioner was also accompanied by one fan on stage for each pick.
Las Vegas is selected to host the NFL Draft in 2022. The draft event was initially scheduled in the city last April but canceled due to the pandemic.
The 2021 draft continues Friday with rounds two and three. The remaining rounds (four through seven) are scheduled for Saturday. The draft is televised on Disney properties ABC and ESPN and the league-owned NFL Network.
Copyright CNBCs - CNBC