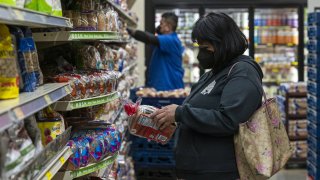 This is CNBC's live blog covering European markets.
European stocks closed higher on Monday, following a positive trend set at the end of last week and overnight in Asia-Pacific markets.
The pan-European Stoxx 600 provisionally ended up 1.8%, with retail stocks jumping 4.5% to lead gains as all sectors and major bourses closed in positive territory.
European stocks took heart last week from the hawkish tone struck by the European Central Bank on monetary policy, as policymakers look to rein in record-high inflation in the 19-member euro zone. The momentum continued on Monday.
Global markets are gearing up for the latest reading of U.S. inflation, with the August data set to be released Tuesday.
The report is one of the last pieces of data on inflation the U.S. Federal Reserve will see ahead of its September meeting, where the central bank is expected to deliver its third consecutive 0.75 percentage point rate hike in an effort to combat high inflation.
Fed Chair Jerome Powell reiterated last week that he is "strongly committed" to bringing down inflation.
U.S. stock futures climbed on in premarket trade on Monday, while shares in the Asia-Pacific rose in overnight trading on improved risk sentiment. Mainland China, Hong Kong and South Korea markets are closed for a holiday.
Gas storage in Europe will reach over 90% this summer, says Goldman Sachs
Investment bank Goldman Sachs predicts European gas storage will reach over 90% of its capacity this summer, despite a halt in Russian supplies. 
Gas stocks are up 4.4% since the start of the day's trading as of late afternoon.
— Hannah Ward-Glenton
U.S. stocks open higher
U.S. stocks opened higher Monday as investors looked ahead to key inflation data to be released this week.
The Dow Jones Industrial Average was up 0.4% at market open, while the S&P 500 and the Nasdaq both traded around 0.7% higher.
— Karen Gilchrist
Stocks on the move: Bridgepoint up 9%, Thule Group down 14%
Shares of Swedish outdoor retailer Thule Group fell more than 14% to the bottom of the Stoxx 600 by early afternoon deals, after the company issued a profit warning on Sunday, citing falling demand in the bike retail sector.
At the top of the European blue chip index, British private equity firm Bridgepoint Group jumped 9%.
Hellofresh working with U.S. regulator after health alert
Shares in Berlin-based meal kit company Hellofresh fell more than 2% during morning trading in Frankfurt, as Reuters reported the company was working with the U.S. Department of Agriculture and one of its suppliers following a public health alert.
The wider DAX index gained 1.6%.
— Jenni Reid
British pound drops to weakest against euro since early 2021
Sterling fell to its weakest point against the euro since February 2021 on Monday, as the common currency strengthened on the back of hawkish messaging on monetary policy from the European Central Bank.
The euro was trading at just over £0.87 by mid-morning in Europe, up 0.6% on the day.
- Elliot Smith
Euro climbs to 3-week high against the U.S. dollar
The euro jumped to a three-week high against the U.S. dollar early on Monday after hawkish messaging from the European Central Bank on monetary policy tightening.
The common currency was up 1.3% against the greenback shortly after 9 a.m. London time, changing hands for around $1.017.
Sterling also advanced, and was last seen trading up 0.8% against the dollar at $1.168.
The weaker dollar may have been helping U.S. futures on Monday as the greenback's march to the highest in decades vs. a basket of currencies recently has weighed on share prices. A strong dollar erodes the value of revenue for U.S. multinationals.
- Elliot Smith
Stocks on the move: Thule Group down 8%, Uniper up 7%
Shares of Swedish outdoor retailer Thule Group fell more than 8% to the bottom of the Stoxx 600 in early trade after the company issued a profit warning on Sunday, citing falling demand in the bike retail sector.
At the top of the index, Uniper shares climbed more than 7% as investors looked to pick up the stock at historic lows after its recent plunge on the back of Russian gas supply concerns.
- Elliot Smith
UK economy grew by less than expected in July
The British economy grew by 0.2% month-on-month in July, below a consensus forecast of 0.4%, as the country's soaring inflation showed signs of straining economic activity.
The Office for National Statistics (ONS) noted a particular fall in power production, and said anecdotal evidence suggested that "there may be some signs of changes in consumer behavior and lower demand in respond to increased prices."
New Prime Minister Liz Truss last week announced a cap on household energy tariffs, which is expected to reduce the risk of an economic downturn at the expense of further strain on public finances.
- Elliot Smith
CNBC Pro: Sterling has been tanking versus the dollar. Here's how low it could go, according to the pros
The British pound has slid against the U.S. dollar over the past year, hitting a 37-year low against the greenback last week — and it could weaken even further, according to analysts.
DZ Bank's Sonja Marten warned that GBP/USD is a currency pair that tends toward large swings, and gave a pretty bearish forecast.
Pro subscribers can read more here.
— Zavier Ong
U.S. to broaden curbs on chip and tool exports to China, Reuters reports
The U.S. Department of Commerce plans to publish new regulations related to restricting exports of chipmaking equipment to Chinese factories that produce advanced semiconductors, Reuters reported, citing people familiar with the matter.
The rules will be based on letters sent to KLA, Lam Research and Applied Materials earlier this year, when they were informed that government-issued licenses would be needed to sell such equipment to buyers that make chips with sub-14 nanometer processes.
The new regulations would likely include additional actions against China, sources told Reuters, adding they could be changed and published later than expected.
—Jihye Lee
CNBC Pro: Goldman reveals the 'sweet spot' for its favorite oil stocks — and gives one 35% upside
As fears over the global energy supply came back into focus last week, Goldman highlighted six oil and gas themes which it said looked attractive into the year end.
The investment bank sees total returns of 15% for large-cap stocks under its oil and gas coverage and names six themes to watch into the year end.
CNBC Pro subscribers can read more here.
— Weizhen Tan
European markets: Here are the opening calls
European stocks are expected to open cautiously higher on Wednesday with the U.K.'s FTSE index seen 18 points higher at 7,560, Germany's DAX 33 points higher at 13,944, France's CAC 40 up 18 points at 6,616 and Italy's FTSE MIB up 42 points at 23,029, according to data from IG.
Data releases include preliminary euro zone unemployment data for the second quarter as well as second quarter gross domestic product. The latest U.K. inflation numbers for July will be released as well as preliminary second quarter Dutch GDP.
Earnings come from Uniper, Carlsberg, Persimmon, Balfour Beatty, BAT and National Grid.
Sign up for CNBC's newsletter here:
Copyright CNBC