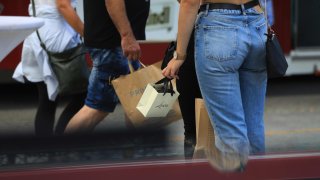 The pan-European Stoxx 600 climbed 0.3%, with oil and gas stocks adding 2.8% to lead the gains.
Traders continued to digest the ECB's decision to slow down bond buying under its pandemic stimulus program.
LONDON — European stocks closed higher on Monday, with investors continuing to weigh up the European Central Bank's latest policy decision and inflation data.
The pan-European Stoxx 600 provisionally ended the session up 0.3% after the benchmark slumped 1.2% last week. Oil and gas stocks led the gains on Monday, adding 2.8%.
European traders continued to digest the European Central Bank's decision last week to slow down bond-buying under its pandemic emergency purchase programme (PEPP) in response to higher inflation and stronger GDP growth across the euro zone.
The ECB also modestly revised up its medium-term inflation forecasts, a move that followed data showing euro zone inflation notched a decade high of 3% in August.
In terms of individual share price movement in Europe, French-American oil and gas company TechnipFMC climbed 7% to lead the Stoxx 600 after agreeing to sell a stake in spin-off firm Technip Energies.
At the bottom of the index, Swedish pulp and paper company SCA fell 6.7%.
On Wall Street, the Dow Jones Industrial Average gained Monday, rebounding from a five-day losing streak. The Dow jumped about 280 points, or 0.8%. The S&P 500 was up 0.2%. The Nasdaq Composite fell 0.3%.
This coming week, global investors will be keeping an eye on the U.S. consumer price index for August, set to be released Tuesday; economists surveyed by FactSet are expecting the reading to show that consumer prices jumped 5.3% on an annual pace in August. Retail sales data will be released later in the week.
Enjoyed this article?
For exclusive stock picks, investment ideas and CNBC global livestream
Sign up for CNBC Pro
Start your free trial now
- CNBC's Ryan Browne to this market report.
Copyright CNBCs - CNBC