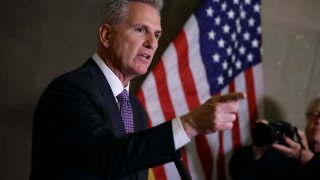 This is CNBC's live blog covering European markets.
European stock markets were higher Friday as talks to raise the U.S. debt ceiling reached their crucial final week.
The pan-European Stoxx 600 index was up 0.9% in afternoon trading after falling to its lowest level since early April through three negative sessions. Sectors were mostly higher, with mining stocks surging 2.5% and tech extending recent gains by 1.8%. Telecoms saw the biggest drop, with a 0.2% downturn.
Investors are still closely watching U.S. negotiations over the deal, which are progressing but in a "sensitive phase," according to Republican negotiator Rep. Patrick McHenry.
Tech stocks were buoyed on Thursday by artificial intelligence beneficiary Nvidia's strong results, with Dutch chip machine maker ASML ending the day almost 5% higher and the Nasdaq Composite rallying 1.7%.
Asia-Pacific markets rode the positive momentum into Friday, and mainland Chinese markets reversed earlier losses.
U.S. stock were higher as investors monitored the debt ceiling talks and analyzed data releases on personal consumer expenditures, personal income, consumer spending and sentiment and durable goods.
U.S. stocks open higher
U.S. stocks rose Friday as investors kept an eye on Washington for signs of progress on debt ceiling negotiations.
The Dow Jones Industrial Average climbed 63 points, or 0.2%. The S&P 500 gained 0.2%, and the Nasdaq Composite advanced 0.3%.
— Brian Evans and Alex Harring
Stocks on the move: ASMI, Faurecia up, Aroundtown down
With European markets broadly positive in afternoon trade, chip industry manufacturer ASM International was among the top performers, climbing 6.3%.
Tech has been boosted by Nvidia's results beat Thursday, with Dutch semiconductor firm ASML 3% higher.
French auto parts suppliers Faurecia and Valeo were also top performers, gaining 6.6% and 4.7% respectively after Jefferies analysts upgraded both stocks to a "buy."
At the other end of the Stoxx 600 index, European property firm Aroundtown fell 2.8%, continuing its nearly two-year slide as it struggles with the higher interest rate environment. Bloomberg reported Thursday it is considering selling its Center Parcs portfolio to reduce debt.
Fintech Wise was down 2.3% as investors appeared nervous over Monday's announcement that its CFO will leave the company next year.
— Jenni Reid
A U.S. recession would be 'good news' for markets, says Destination's Michael Yoshikami
Michael Yoshikami, founder and CEO of Destination Wealth Management, discusses the outlook for monetary policy and why a U.S. recession would be positive for markets.
UK finance minister says recession acceptable to bring down inflation
U.K. Finance Minister Jeremy Hunt told Sky News he would be comfortable with Bank of England rate hikes pushing the economy into a recession as long as inflation comes down.
"Because in the end, inflation is a source of instability," Hunt said. He added that fiscal and monetary policy must work in alignment "to balance the books so that the markets, the world can see that Britain is a country that pays its way."
Money markets raised their bets on the central bank's peak rate from 4.75% to 5.5% after figures out Wednesday showed inflation fell by less than forecast.
The bank's base rate is currently 4.5% and a 25 basis point hike in June is widely expected.
Gilt yields have been moving higher, nearing levels last seen in the wake of former Prime Minister Liz Truss's market-rattling mini budget last October.
The International Monetary Fund this week joined the Bank of England in saying it no longer expects the U.K. to enter a recession this year, though noted the outlook was "subdued."
Germany entered a technical recession in the first quarter, revised statistics published Thursday showed.
— Jenni Reid
Europe stocks open higher
European stock markets regained some positive momentum early Friday, with the benchmark Stoxx 600 index up 0.4% at 8:30 a.m. London time.
The U.K.'s FTSE 100 climbed 0.4%, while Germany's DAX and France's CAC were up 0.1% and 0.2%, respectively.
— Jenni Reid
UK retail sales show monthly rise
U.K. retail sales volumes were up 0.5% on the prior month in April, the Office for National Statistics said Friday.
Economists polled by Reuters expected a 0.3% rise following a 1.2% decline in volumes in March.
However, volumes were down by 3% from the year before as the amount spent by consumers rose by 4.7%, showing the impact of inflation on shoppers.
Ashley Webb, U.K. economist at Capital Economics, said better weather, rises in state pension, welfare payments and minimum wage, and a government cost-of-living payment to low-income households likely boosted the monthly figure.
"Overall, while the outlook for retail sales appears to be improving, we expect further rises in interest rates, from 4.50% now to a peak of 5.25%, and for them to stay high until late next year. That will mean real consumer spending is more likely to decline later this year than rise," Webb added.
— Jenni Reid
European markets: Here are the opening calls
European markets are expected to open mixed Friday.
The U.K.'s FTSE 100 index is expected to open 3 points lower at 7,575, Germany's DAX 0.5 points higher at 15,804, France's CAC up 5.2 points at 7,239 and Italy's FTSE MIB 87.5 points higher at 26,508, according to data from IG.
— Jenni Reid
CNBC Pro: Parts of the market are overbought — but these 4 stocks are still discounted, says top strategist
Parts of the market are in overbought territory, but Morningstar's Dave Sekera says some stocks that the firm is bullish on are still trading at a discount to its fair value estimates.
They include one tech giant and a major U.S. bank.
CNBC Pro subscribers can read more here.
— Weizhen Tan
CNBC Pro: Goldman Sachs says these three stocks have at least 75% upside — and one has A.I. at its core
Earnings season is over, and Goldman Sachs has identified three stocks with major upside potential.
In the first quarter, the investment bank said, investors focused on the health of the global consumer and post-pandemic growth balancing with increased margins. However, looking ahead, it expects investors to focus on large companies with profitable business models.
Based on their first-quarter results, Goldman expects shares of three companies it identified to rise by more than 75%.
CNBC Pro subscribers can read more here.
— Ganesh Rao
Biden, Congressional leaders are nearing a deal on raising the debt ceiling
Congressional leaders and President Joe Biden were close to a preliminary agreement to raise the debt ceiling on Thursday, according to a report from Reuters citing people familiar with the matter.
Progress between Biden and House Speaker Kevin McCarthy is pinned to $70 billion in discretionary spending, the report said.
— Brian Evans
Fed's Collins says officials are 'at or near' a pause in hikes
Boston Federal Reserve President Susan Collins thinks the central bank where it stop increasing interest rates.
In a speech delivered Thursday to graduates from the Community College of Rhode Island, Collins indicated she's seeing "signs of moderation" from inflation that could negate the need for future hikes.
"I believe we may be at, or near, the point where monetary policy can pause raising interest rates. This will provide an opportunity to more fully assess the impact of the actions taken to date and the general tightening of credit conditions on economic activity," she said in prepared remarks.
Markets pricing, however, has shifted, with the expectation now that the Fed will raise a quarter percentage point by the July meeting.
—Jeff Cox
Copyright CNBCs - CNBC