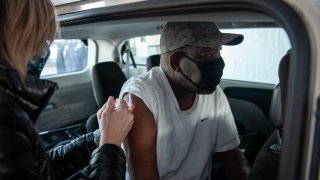 The coverage on this live blog has ended.
The United States has fully vaccinated about 14.8% of its adult population as of Monday, according to data from the Centers for Disease Control and Prevention. The CDC said at least 109 million Covid-19 vaccine doses have been administered in the U.S., a milestone that includes 16.5 million vaccines administered under the Trump administration. Yet, White House Chief Medical Advisor Dr. Anthony Fauci on Sunday warned Americans should continue with public health measures, like wearing masks, to avoid new infection spikes such as those being experienced in Europe.
Here are some of the biggest developments Monday:
The U.S. is recording at least 53,670 new Covid-19 cases and at least 1,354 virus-related deaths each day, based on a seven-day average calculated by CNBC using Johns Hopkins University data.
The following data was compiled by Johns Hopkins University:
Global cases: More than 120.1 million 
Global deaths: At least 2.65 million
U.S. cases: More than 29.48 million
U.S. deaths: At least 535,472
Portugal follows other European nations in suspending AstraZeneca vaccine use
Portugal has suspended the use of a vaccine by AstraZeneca and the University of Oxford, Reuters reports, following the lead of other European nations over blood clot concerns.
The head of the country's vaccination taskforce said the doses that have already arrived in Portugal would be kept in storage until further notice, according to the report.
Here's a running list of all the countries suspending use of the vaccine.
—Sara Salinas
Connecticut to open vaccine appointments to all adults in early April, governor says
Connecticut Gov. Ned Lamont said the state is accelerating its Covid-19 vaccine schedule and tentatively plans to open appointments to every adult in the state beginning April 5.
The Democratic governor also said in a tweet that people aged 45 to 54 will now be eligible to schedule an appointment beginning Friday. Lamont said in a statement that the state expects to receive more than 200,000 first doses per week from the federal government by early April.
"This allotment, combined with our state's strong execution over the past several weeks, allows Connecticut to significantly accelerate the schedule so that we can equitably and efficiently vaccinate as many residents as possible," Lamont said in a statement.
Connecticut has so far administered a first dose to 22.2% of its population, according to the state's website.
—Noah Higgins-Dunn
Mississippi to open vaccine appointments to all adults
Mississippi Governor Tate Reeves announced that starting Tuesday vaccine appointments in the state will be open to "all Mississippians."
More than half a million people have received at least one dose of the vaccines in the state, according to the Mississippi State Department of Health.
Other states that have made similar moves to expand vaccine eligibility include Alaska, Michigan, Georgia, Utah, Vermont and Wisconsin.
–Rich Mendez
Spain pauses use of AstraZeneca's vaccine for 2 weeks
Spain is the latest country to pause administration of AstraZeneca's vaccine over blood clot fears, halting use of the drug for at least two weeks, the country's Health Minister Carolina Darias said.
Darias called the move "precautionary and temporary," according to a report from the Associated Press.
AstraZeneca and the University of Oxford, which partnered on the drug, have said there's no evidence of a higher risk of blood clots in vaccine recipients.
—Sara Salinas
CDC chief Walensky warns of another surge as air travel picks up
Dr. Rochelle Walensky, the head of the U.S. Centers for Disease Control and Prevention, urged Americans during a White House Covid-19 press briefing to not let down their guard after a busy travel weekend across the U.S.
More people are returning to the skies despite guidance from the CDC warning against nonessential trips, even for those who are fully vaccinated. Even though many colleges in the U.S. scaled back their spring breaks in an effort to curb partying and infections, officials are still worried about travelers who are "enjoying spring break festivities, maskless," Walensky said.
"I'm pleading with you, for the sake of our nation's health," Walensky said. "Cases climbed last spring, they climbed again in the summer, they will climb now if we stop taking precautions when we continue to get more and more people vaccinated."
—Noah Higgins-Dunn
Germany, Italy and France stop using AstraZeneca vaccine
The Covid vaccination effort in Europe is on shaky ground as many of the region's most populated countries have halted use of the vaccine developed by AstraZeneca after reports of blood clots among vaccinated people, Reuters reports.
Germany, which is facing a third wave of the virus, joined Italy and France in halting the administration of the vaccine Monday, the news service said.
Denmark and Norway halted use of the AstraZeneca shot last week and were followed by Iceland, Bulgaria, Ireland and Netherlands.
Vaccine supply is far below what is needed and the World Health Organization urged countries to keep using the AstraZeneca shot, Reuters reports.
"As of today, there is no evidence that the incidents are caused by the vaccine and it is important that vaccination campaigns continue so that we can save lives and stem severe disease from the virus," WHO spokesman Christian Lindmeier said.
—Chris Eudaily
Younger generations more likely to have moved during the pandemic, study shows
Many Americans have picked up and moved during the coronavirus pandemic, but how likely you were to have changed addresses depends a lot on your age, according to new research from Bankrate.com.
Gen Z – who range from ages 18 to 24 – were most likely to pick up stakes, with 32% on the move. That group was followed by millennials – ages 25 to 40 – at 26%.
Members of Gen X – ages 41 to 56 – and baby boomers – ages 57 to 75 – were least likely to relocate, with 10% and 5% having made moves, respectively.
The main reason people relocated was to be closer to friends and family, followed by more affordable living or relocating for a job.
Most who moved didn't stray far from cities. Three of the five most popular places to move from Manhattan are less than 15 miles away. Meanwhile, people who left other cities, such as Austin, Dallas, Houston or Orlando, mostly chose new home bases that are less than 30 miles away.
—Lorie Konish
CDC study finds most people return for second vaccine dose on time
A new study from the U.S. Centers for Disease Control and Prevention found that most people who received either Pfizer or Moderna's two-dose vaccine went back for their second shot on time.
The recommended interval for the vaccines is 21 days after someone's first jab with Pfizer's vaccine and 28 days for Moderna's, though scientists say up to 42 days is permissible if a delay is unavoidable.
According to the CDC's analysis, which examined more than 12.4 million people who received their first dose through Feb. 20, 88% of people received both doses while 3.4% missed their second dose. The study also found that the majority of people — nearly 96% — who received both doses of the vaccine received the second shot within the recommended time period.
"These findings are incredibly reassuring as we continue to scale up our vaccination efforts. They show that our systems are working and that people are taking vaccinations seriously, even when it means taking time to show up for their second appointment," CDC chief Dr. Rochelle Walensky said at a press briefing following the study's release.
—Noah Higgins-Dunn
The CEO to watch today to gauge air travel's rebound
Trying to gauge the rebound in air travel? Watch United Airlines CEO Scott Kirby. A year ago, Kirby, then the Chicago-based airline's president, was perhaps the most pessimistic airline chief about the Covid-19 pandemic, warning investors at a J.P. Morgan industry conference in March that the carrier was preparing for a sharp drop in revenue.
The declines surpassed even Kirby's expectations. U.S. airlines lost a combined $35 billion last year.
After Congress approved each of two rounds of government payroll support last year Kirby and other United executives warned about challenges ahead. After Congress approved a third round of payroll aid last week, Kirby appeared to take a more optimistic tone, saying in a LinkedIn post that "our teams will be able to remain current in their training and ready to match expected future demand."
Kirby, who became United's CEO last May, returns to the J.P. Morgan industrials conference today, presenting at 9:40 a.m. ET
—Leslie Josephs
European Covid case spikes no longer a forecast of what U.S. can expect, says Gottlieb
Dr. Scott Gottlieb told CNBC the coronavirus developments in Europe are likely no longer predictive of what will happen a few weeks later in the U.S., unlike earlier phases of the pandemic.
"Everything that happened in Europe eventually happened here. Now I think the tables have turned. We're ahead of Europe," the former FDA chief said.
Some European nations like Italy are putting tougher public-health restrictions back in place in response to an uptick in Covid infections. However, Gottlieb noted the U.S. has a larger share of its population receiving at least one coronavirus vaccine dose compared with the European Union and European Economic Area member states.
"The fact that we haven't seen the coronavirus upsurge gain ... even as B117 becomes the prevalent strain across the United States, I think bodes well," Gottlieb said.
—Kevin Stankiewicz
Disclosure: Scott Gottlieb is a CNBC contributor and is a member of the boards of Pfizer, genetic testing start-up Tempus and biotech company Illumina. Gottlieb also serves as co-chair of Norwegian Cruise Line Holdings′ and Royal Caribbean's "Healthy Sail Panel."
Hundreds of Tesla workers tested positive for Covid
Public health data released over the weekend that hundreds of Tesla workers have tested positive for coronavirus at the company's Fremont, California, factory.
Emily Glazer, a reporter at The Wall Street Journal, and Dan Primack, business editor at Axios, joined CNBC's "Squawk Box" to discuss the development as well as other big Tesla headlines.
European Union countries clash over unequal vaccine distribution
Six European Union countries — Austria, Latvia, the Czech Republic, Bulgaria, Croatia and Slovenia — have raised concerns over how the bloc is distributing Covid-19 vaccines after AstraZeneca cut its delivery targets once again.
They are worried that without any changes, some EU nations "would be able to reach herd immunity in a few weeks while others would lag far behind," they said in a letter.
Their complaint follows news that AstraZeneca will not meet its delivery targets in the coming months. The Swedish-British pharmaceutical firm confirmed to CNBC that it will deliver 30 million doses to the EU by the end of the first quarter and another 70 million doses during the second quarter.
These numbers are below what the bloc was expecting to receive.
—Silvia Amaro
Facebook to start labeling all posts about Covid vaccines
Facebook will start adding labels to posts about the safety of the Covid-19 vaccines and will soon label all posts about the shots, Reuters reported.
The social media giant has been criticized for allowing misinformation about the vaccines to spread on the company's platforms, according to Reuters.
Facebook said it is also launching a tool in the U.S. to give users information about where to get Covid vaccines and adding a Covid information area to its photo-sharing site Instagram, the wire service said.
—Terri Cullen
Ireland, Netherlands join growing list of countries to suspend use of AstraZeneca vaccine
Ireland and the Netherlands have become the latest countries to suspend the use of the coronavirus vaccine developed by AstraZeneca and the University of Oxford over safety concerns.
Several European countries, including Denmark, Norway, Iceland and Bulgaria, have already paused the use of the Oxford-AstraZeneca vaccine following reports of blood clots in some vaccinated people. Thailand became the first Asian country to halt the use of the jab last week.
The Dutch government has said the Oxford-AstraZeneca vaccine would not be used nationwide until at least March 29, while Ireland said earlier in the day that it had temporarily suspended the shot as a precautionary step.
The World Health Organization has sought to downplay ongoing safety concerns, saying last week that there is no link between the shot and an increased risk of developing blood clots.
—Sam Meredith
JetBlue says bookings are picking up as industry turns a corner
JetBlue Airways says air travel demand has picked up in recent weeks, a trend that will help narrow the carrier's losses, as passenger numbers climb to the highest levels in a year.
"Although booking trends remain choppy, in recent weeks JetBlue has experienced an improvement in bookings by leisure and visiting friends and relatives..." JetBlue says in a filing.
New York-based JetBlue says it expects its EBITDA to be a negative $490 million and $540 million, down from a previous estimate of losses of $525 million to as much as $625 million. First-quarter revenue will still be down 61% to 64% from 2019 in the first quarter of the year, it estimated, after previously forecasting a decline of as much as 70%.
JetBlue shares are up 4.7% in premarket trading.
—Leslie Josephs
Read CNBC's previous live coverage here:
Covid updates: U.S. tops 100 million vaccines administered; Michigan expanding eligibility to residents 16 and older
Copyright CNBC