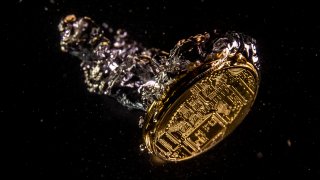 UST, a so-called stablecoin that's meant to maintain a $1 peg, plunged to as low as 26 cents Wednesday.
Sister token luna has lost roughly 96% of its value in the past seven days
Terra creator Do Kwon announced a last-ditch effort to return UST to its $1 peg.
The two main tokens from embattled crypto project Terra went into free fall Wednesday.
TerraUSD, or UST, plunged to as low as 26 cents. The so-called stablecoin is meant to maintain a 1-to-1 peg with the U.S. dollar. It was last trading at around 68 cents, according to Coin Metrics data.
Sister token luna, which has a floating price and is meant to serve as a kind of shock absorber for UST, at one point dived to less than 90 cents before recovering slightly to $1.18. The coin has lost roughly 96% of its value in the past seven days, and now has a smaller market value than its stablecoin counterpart.
Blue-chip tokens bitcoin and ether saw wild swings throughout the day as traders monitored UST's descent as well as hotter-than-expected April inflation data. Bitcoin was last up 1% at $31,377, having previously slumped below $30,000. Ether fell 1% to $2,309.
Stablecoins are akin to bank accounts for the crypto economy, offering a sound store of value to avoid the kind of volatility cryptocurrencies like bitcoin have become notorious for — in theory, at least.
UST is what's known as an "algorithmic" stablecoin. It uses a complex system of minting and burning tokens to adjust supply and stabilize prices. UST's price has crumbled under the pressure of a sell-off in cryptocurrencies recently, resulting in further panic in the market.
Do Kwon, the coin's creator, made a last-ditch effort to return UST to its $1 peg by increasing the rate at which new luna is minted per day. The venture is essentially allowing supply of its stablecoin to be eaten up, a move it hopes will boost the price.
"I understand the last 72 hours have been extremely tough on all of you - know that I am resolved to work with every one of you to weather this crisis, and we will build our way out of this," Kwon tweeted Wednesday.
Investors had hoped for a fresh capital injection to boost the project. Backers of UST are reportedly seeking to raise more than $1 billion in funding to prop up the stablecoin.
Vijay Ayyar, head of international at crypto exchange Luno, said Kwon's announcement did not inspire confidence.
"They're letting the system bleed out in the hope that it will start re-pegging back when the 'excess' UST supply has been worn out," Ayyar said.
Kwon has amassed billions of dollars' worth of bitcoin through his Luna Foundation Guard fund to support UST in times of crisis. The fear now is that Luna Foundation Guard dumps those bitcoins onto the market, resulting in an even bigger sell-off.
Bitcoin briefly slumped below $30,000 Wednesday, the second time in a week it has fallen beneath that level. The world's biggest cryptocurrency is down over 50% since its November all-time high, as investors flee risky assets amid fears over rising inflation and slowing economic growth.
Algorithmic stablecoins are still a relatively new phenomenon. But UST has grown to become a major player in the crypto economy, with a circulating supply of 16 billion tokens.
David Moreno Darocas, a research analyst at CryptoCompare, said the situation highlights the "fragility" of algorithmic stablecoins like UST.
"UST has grown to be both an integral and controversial piece of the crypto ecosystem," he said.
Copyright CNBC