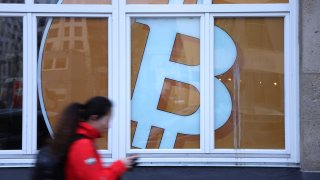 Cryptocurrencies rose Tuesday with U.S. equities as tensions between Ukraine and Russia appeared to be easing.
Bitcoin climbed 4.6% to $44,177.34, while ether rose 7.6% to $3,114.09, according to data from Coin Metrics. Almost the entire crypto market was higher Tuesday.
The moves are likely a "natural market surge" after it had been "resolutely neutral" for much of the past week, said Clara Medalie, research lead at crypto market data provider Kaiko. She added that both bitcoin and ether have broken through previous resistance and are headed for one-month highs.
"The past month has been bearish for nearly all crypto assets following a prolonged bout of low liquidity and macro-induced volatility," she said. "It remains to be seen whether this upside break has conviction, with bitcoin still trading nearly $20,000 below previous all time highs."
Tuesday's upward moves follow an announcement from Moscow that the Russian Defense Ministry has begun returning some troops to deployment bases after training exercises near the Ukraine border.
Bitcoin traded choppily on Monday as the conflict had appeared to escalate, while stocks ended the day lower. The cryptocurrency has been trading like more traditional risk assets for several months as its investor base becomes increasingly institutionalized.
Although the bounce is welcome, it also shows the correlation between traditional and digital markets is "as strong as ever," Valkyrie Investments CEO Leah Wald said.
"Going forward, we believe the expected rate hikes are priced in and will not have much effect on prices," she added. "Additionally, fundamentals including active wallet addresses, total transactions, and multiple crypto asset apps ascending to the top of app store download charts after the Super Bowl shows there is still strong interest in and demand for bitcoin and altcoins. We remain firmly bullish and stand behind our belief that the second half of this year is likely to see a strong rally in digital assets including bitcoin."
Copyright CNBCs - CNBC