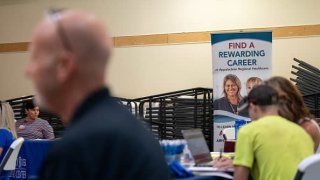 About 3.4 million workers were long-term unemployed in July, according to the Bureau of Labor Statistics.
That's down by about 560,000 from June, but still represents about 2 in 5 jobless individuals.
Long-term unemployment is a period of joblessness lasting at least six months and poses elevated financial risks for households.
About 3.4 million Americans were long-term unemployed in July, a reduction of about 560,000 from the prior month, according to the Bureau of Labor Statistics.
However, the figure remains elevated relative to pre-pandemic levels. About 2 in 5 jobless individuals are long-term unemployed, meaning they've been out of work at least six months.
This period poses elevated financial risk for households, according to economists.
Household income may drop significantly — especially as enhanced federal benefits for the jobless are poised to expire on Labor Day. The dynamic makes it harder to find a new job, scars workers' long-term earnings potential and raises the odds of losing a future job down the road.
More from Personal Finance:
Democrats' $3.5 trillion budget plan extends major relief to families with kids
7.5 million Americans will lose unemployment benefits next month
There's one week left to qualify for free or low-cost private health insurance
Roughly 39% of all jobless workers have been out of work for 27 weeks or longer, according to the BLS. That's down from about 42% in June.
The reduction came on the back of a stronger-than-expected July jobs report. Hiring rose at its fastest pace in almost a year, as the economy added 943,000 jobs and the U.S. unemployment rate fell to 5.4%.
The number of job openings jumped to more than 10 million in June, the highest on record, the Labor Department reported Monday.
The number of long-term unemployed remains 2.3 million higher than in February 2020. Nearly 2.5 million individuals were unemployed for at least a year in July, according to the BLS, down by 406,000 people from June.
Copyright CNBCs - CNBC