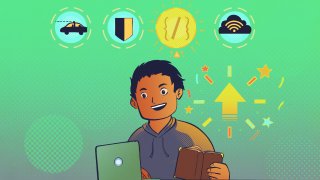 Founder: Sebastian Thrun
CEO: Gabe Dalporto
Launched: 2011
Headquarters: Mountain View, California
Funding: $238 million
Valuation: $1 billion (PitchBook)
Key technologies: Artificial intelligence, cloud computing, machine learning
Industry: Education
Previous appearances on Disruptor 50 List: 3 (No. 8 in 2018)
The interest in online learning tools has soared over the past year, driven in large part by the seismic shift in school and work as a result of Covid-19. Online learning platform Udacity is gaining from this change. During 2020, the company says it launched more new degree programs — it calls them "nanodegrees" — than it ever had, including an AI for Healthcare nanodegree last May. It also partnered with AT&T Believes to create 1,000 nanodegree scholarships for underserved communities, and is working with the Air Force's BESPIN agile development lab to offer nanodegrees to men and women in the armed services.
Earlier this year, founder and chairman Sebastian Thrun said since the beginning of the pandemic, enrollment in Udacity's courses had more than doubled and that there's more interest from corporations looking to upskill workers to give them the tech expertise needed today.
Case in point: cybersecurity. In late March, Udacity launched its School of Cybersecurity, offering four nanodegrees including Cybersecurity, Security Engineer, Security Analyst, and Ethical Hacker. The degrees take anywhere from four to six months to complete. Some of the other courses the company offers include artificial intelligence, machine learning, digital marketing, product management, data analysis, cloud computing, and autonomous vehicles.
While Udacity still offers courses directly to individuals, CEO Gabe Dalporto has said that he anticipates enterprise and government customers will ultimately account for about 80% of its business. The Mountain View, California-based company collaborates with expert instructors and over 200 global industry partners including AT&T, Google, Facebook, Mercedes-Benz, and NVIDIA. Beyond the U.S., it has operations in the United Kingdom, Egypt, Germany, India, and the United Arab Emirates. In November, Udacity completed a $75 million debt funding round from Hercules Capital and announced that it was profitable.
—Contributed by Susan Caminiti
SIGN UP for our weekly, original newsletter that goes beyond the list, offering a closer look at CNBC Disruptor 50 companies, and the founders who continue to innovate across every sector of the economy.
Copyright CNBC