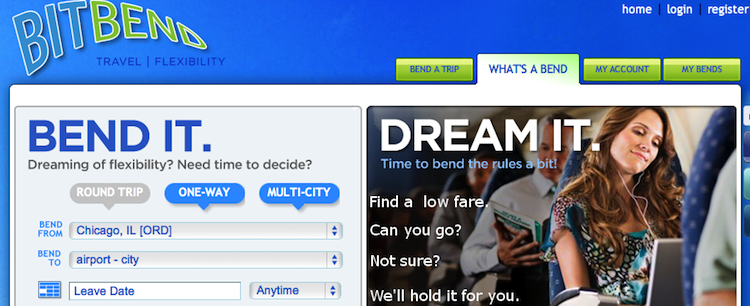 Have you heard? There's a small Chicago startup that's about to change the way we plan our travel. It's kind of a big deal.
BitBend is about to revolutionize the travel industry. For the price of a latte, you can "bend," or hold, a flight you want to book for days or even weeks while you finalize your travel plans. No need for hasty commitments. No more hikes in plane fares after 24 hours. Find a low fare, bend your flight, and take your sweet time figuring out your travel plans. Let your friends know about your bend immediately via Facebook or Twitter so that they can join you. There's no obligation to purchase the flight, either; you can just let your bend go.
Travel addicts and financial market veterans Heidi and Rob Brown came up with the idea recently because they were sick and tired of missing great travel opportunities. "I can't count how many times I've been too tired to book a flight in the evening only to find the price had jumped up $200 overnight," said Co-Founder Heidi Brown. "My friends consistently moan about the way airlines force them to make decisions on the fly."
So, she combined her love of travel with her experience in the finance industry and, along with her husband, created a service that, in all honesty, was previously unavailable elsewhere.
BitBend's beta launch on Nov. 1 will feature bends on flights going from Chicago to one of 15 destinations including Orlando, Miami, Fort Lauderdale, Denver, Las Vegas, San Francisco, Los Angeles, San Diego, New York, Washington D.C., Portland, Seattle, Austin and Phoenix. Other origins and destinations will soon follow.
With a record 467 million ticket-buying tourists who've already flown in the first half of 2012, BitBend is sure to transform the way we travel.
Want in? Register as a Beta user prior to the launch by heading to BitBend.com.
Jill Salzman is currently growing her third entrepreneurial venture, The Founding Moms, the world's first and only kid-friendly collective of monthly meetups for mom entrepreneurs. A graduate of Brown University and law school, she started a music management firm and then launched a baby jewelry company before creating her current venture. Jill has been featured in national media outlets including People Magazine, The Chicago Tribune, Daily Candy Kids, NBC5 and WGN TV. She is the author of Found It: A Field Guide for Mom Entrepreneurs, a columnist for NBC Chicago, and she gave her own TED talk on 11/11/11. In her spare time, Jill enjoys kloofing, baking, and erasing her daughters' crayon artwork from the kitchen walls.