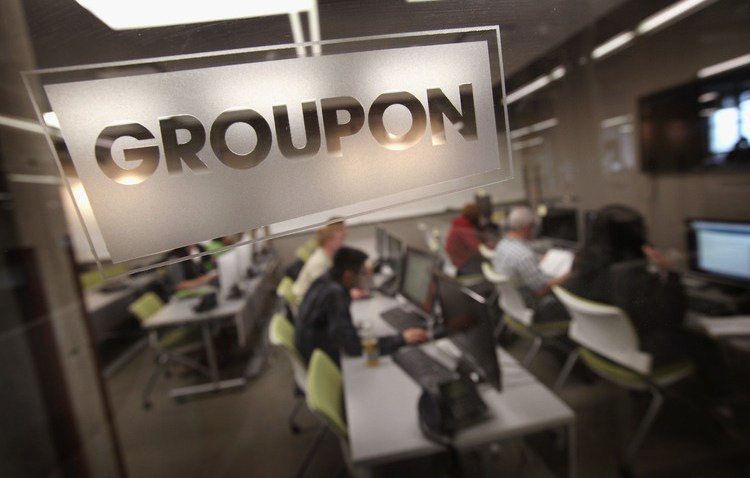 Sometimes when I scan my news aggregator to see what's up with Groupon, I feel more like I'm reading about what a huge dysfunctional family is up to -- like I'm watching a bunch of Dallas fanfic where the Ewings give up on the oil industry and instead try their hand at the daily deal game. I mean, look: The company expanded rapidly and rabidly and has done a commendable job of maintaining its vision. There are bound to be bumps and hiccups in any business. It's just that there are a lot more of them and they are far more noticeable in Groupon because of its accelerated growth.
And, hey, Groupon's stock isn't sinking anymore at least. As of press time, it's at $4.47. That's more or less where it's been since last week, and that's the first step towards gaining traction in the other direction.
But that's hardly wacky. What is wacky is some of the other activity in Castle Groupon: Groupon South Africa has come under fire by customers for offering a deal on Microsoft Windows 8 that had to be clarified multiple times after it already started selling well. The problem? Well, it wasn't actually for a full copy of Windows 8 Pro but instead an upgrade. And when that came to light, so did the fact that the deal wasn't as great as it initially seemed: Microsoft offered the same upgrade for half the price. The seeming only upside of Groupon's deal is that you would get a disc of the new operating system -- Microsoft's deal was download-only. There's a whole bunch of other logistical hairs being split over at MyBroadband about it, if you want to read about it further.
In another corner of the castle, Groupon has announced it has plans to release a holiday toy catalog in November. Last week, Groupon had a bunch of second graders in its headquarters and, according to ABC, they "learned persuasive speaking and the company learned which toys they want this holiday season." It's unclear whether the kids were asked in as research to figure out what to offer deals on or if the company was just getting a jumpstart on psyching kids up to ask their parents for the latest, coolest hunk of plastic.
In other news: People who work at Groupon don't hate Mondays. Sorry, Garfield.
David Wolinsky is a freelance writer and a lifelong Chicagoan. In addition to currently serving as an interviewer-writer for Adult Swim, he's also a comedy-writing instructor for Second City. He was the Chicago city editor for The Onion A.V. Club where he provided in-depth daily coverage of this city's bustling arts/entertainment scene for half a decade. When not playing video games for work he's thinking of dashing out to Chicago Diner, Pizano's, or Yummy Yummy. His first career aspirations were to be a game-show host.