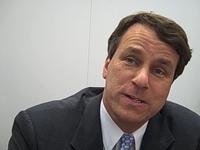 We already suggested you go see Howard Tullman's brother Glen at Ideas on Sunday, but would like to take this chance to reiterate that point. Glen Tullman spoke earlier this month at the New York Entrepreneurial Bash on a potentially controversial management technique that might make you cringe if you're a mama's boy: If you don't have anything nice to say, talk to everyone about it.
"If someone makes a mistake, I'll typically take that and broadcast it to a lot of people and say what I think about it," Tullman says. "Some people say this is anything from cruel and unfair... [that you should] praise in public, teach in private, and I think we've got that backwards in a sense."
That doesn't mean you need to be a jerk about it, though. Anyone who's worked in a toxic work environment has undoubtedly felt their ulcers erupt over having your boss' boss CCed on a disciplinarian e-mail -- particularly when they could have just walked over to your cubicle and talked to you face-to-face.
But Tullman says that there are ways of doing this where it's beneficial to everyone, and to reduce the sting the offending party might feel. "When somebody does something wrong, you correct him or her individually and then one person learns that lesson. Or you can send an email to the whole company and the whole company learns that lesson."
Wise words. Tullman will certainly have more of them this Sunday in his talk at Ideas Week.
Read our original shout-out for Tullman's coming speaking engagement.