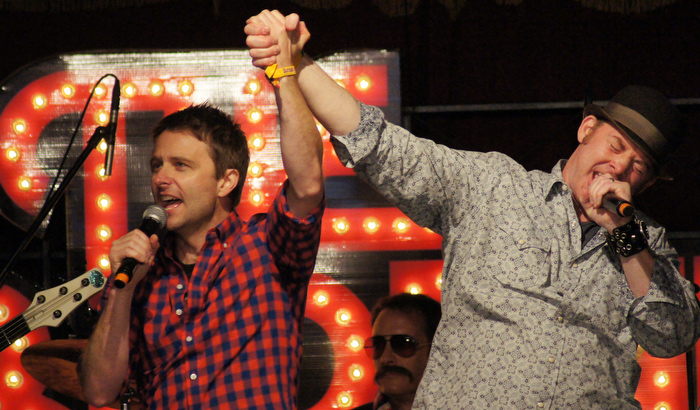 This is not a sales pitch but merely an explanation for how I stumbled upon this topic: I was putting together my syllabus for my Second City class, Humor Writing for the Internet, and was expanding on the section I teach on podcasts when I realized that nobody has really cracked the code on how to market them.
Really, think about it. When's the last time you heard a commercial for a podcast? How do you even hear about a podcast?
The answer that probably comes to mind, or at least it does for me, is "social media." But that's an awful vague answer for a specific issue.
"I think a lot of people make the mistake of thinking they can find new listeners just through social media," podcaster Jaclyn Schiff said. "But just because someone is on Twitter or Facebook doesn't mean they'll listen to a podcast or become a regular listener."
So what do you do? You want to think about who your audience is and how you your podcast might fit into their day-to-day and their pre-existing listening habits.
Mari Mansfield, the senior director of Corporate Communication, suggests you do that by engaging with industry influencers on your topic to "help increase awareness and drives discussion around your content."
Of course, hashtags on Twitter can't hurt, either.
But social media isn't a cure-all. Sponsorships are another approach.
"Sponsors will help promote your podcast on their social media [channels] and perhaps donate a product or service for your listeners to try or test out," explained David Burrows, VP of marketing for Cinsay. "In time, as your audience scales higher, you can actually charge businesses to be featured on each segment. Running a contest with your sponsor is also a great way to build interest quickly and if you keep the contests going, your audience will grow and continue to keep listening."
Of course, all of this presupposes you have a quality podcast that's worth listening to in the first place. And yours is, right?
Obviously, this is a buregoning industry still without any clear answers as to what works and what doesn't. But these are at least approaches that help you focus your brainstorming sessions.
David Wolinsky is a freelance writer and a lifelong Chicagoan. In addition to currently serving as an interviewer-writer for Adult Swim, he's also a comedy-writing instructor for Second City. He was the Chicago city editor for The Onion A.V. Club where he provided in-depth daily coverage of this city's bustling arts/entertainment scene for half a decade. When not playing video games for work he's thinking of dashing out to Chicago Diner, Pizano's, or Yummy Yummy. His first career aspirations were to be a game-show host.