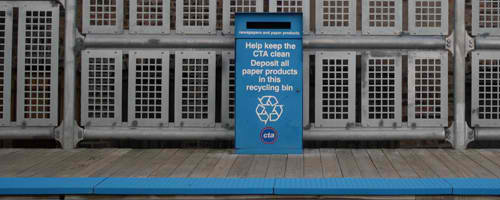 With Earth Day still a recent memory, being more "green" is top of mind. A recent survey from the Office Depot Small Business Index showed that 61 percent of small businesses are actively trying to go green. So surely you are, too, right?
While some Chicagoans joked and slapped high fives to global warming after our unseasonably mild winter this year, the truth is global warming isn't such a pretty picture. The things we hold near and dear as Chicagoans including our food and our lake are greatly at risk due to environmental change.
But what does that mean as a small business owner in Chicago? And what can you do about it?
At the end of the day, greening up your office isn't just good for the environment: It can boost your bottom line both by increasing your customer loyalty and saving you money.
Here's how to start.
1. Re-use and recycle, even if you don't have recycling pickup. You can recycle a lot.
But where, when, and how? The University of Chicago has a comprehensive list of recyclables and where to recycle both on their campus and throughout the city.
The Chicago Climate Action Plan is also an excellent resource.
2. Turn that scrap into cash. At this point you most likely have a recycling bin in your office. If not, that's your first step. Your second? Create a second bin just for cans. Metal can quickly pile up in an office environment, and it's not just canned soup and pop. You may have some chairs, cabinets, or in my case, a broken garment rack or two lying around. Don't just toss that metal. Turn it in for scrap. There are a number of companies that will pick up your scrap for free. A quick Internet search will lead you to the one closest to your business. I went to gotscrap.com, put in my zip code and found a whole list of scrappers and the types of metals they'll take. I've also heard some good things about Chicago Scrap Metal Buyers.
3. Adios junk mail! The City of Chicago has joined forces with Catalog Choice to debut a zero-waste initiative allowing consumers and businesses to stop unwanted phone books, catalogs, coupons, and credit-card solicitations at the source! The Chicago Climate Action Plan has a goal of diverting 90 percent of Chicago waste from our landfills by 2020. Stop junk mail for good by signing up for the mail preference service here.
Hand-loomed and sewn in Chicago, Lara Miller's work is strongly influenced by the city's architectural and cultural landscape. Hand-looming, a process similar to weaving, is a dying artisan craft that is not only cherished, but a staple of the Lara Miller collection. Deemed as sultry and sophisticated as the women who wear them by elle.com, Lara's pieces can be wrapped, reversed, and most notably flipped upside down to reveal a new look.
Born and raised in Chicago, Lara began her education at Syracuse University and graduated with a BFA focused on Fashion and Textiles in 2003 from the School of the Art Institute of Chicago. Lara is a founding member of the Mayor's Fashion Council and served as the Executive Director of the Chicago Fashion Incubator at Macy's on State Street from 2009 - 2012. A sustainable style pioneer, Lara was recently honored as a recipient of the 5th Annual Chicago Magazine Green Awards. Recognized for her leadership in emerging fashion businesses, Lara was awarded the Leadership in Emerging Business Award on Capitol Hill from the Greater Washington Fashion Chamber of Commerce. A 2009 Ecco Domani Fashion Foundation semi-finalist in sustainable design, Lara is also a Lexus Hybrid Living partner who's work has been seen on the Sundance Channel, ABC Nightly News, and in the Wall Street Journal, W Magazine, Vanity Fair, Italian Vogue, Lucky Magazine, amongst others.