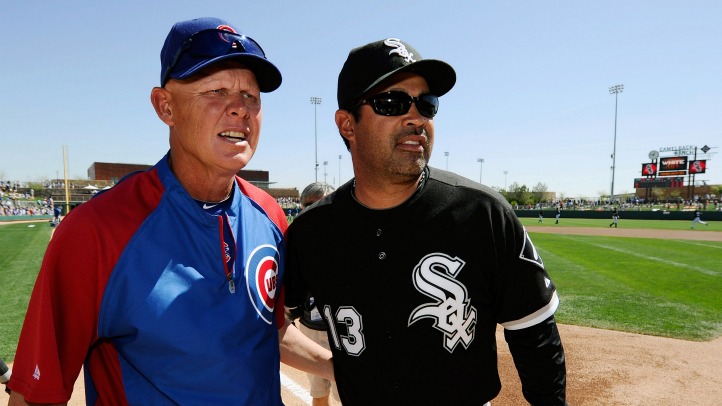 Chicago sports fans are living in the worst of times. The White Sox are underachieving while the Cubs are historically bad. And who knows when (or even if!) the Bears and Bulls will start playing again.
Fortunately, there is a new iPhone app to quantify our anguish. Aptly named Chicago Fan Misery, the iOS application publishes an S&P 500-like index that tracks the performance and fan perception of our local teams. The Fan Misery Index applies a zero to 10 overall ranking to each team (the lower the number the better) with trending arrows pointing up or down based on recent movement. Next to each ranking is also a graphic that displays either sunny or cloudy skies based on a team's competitive forecast.
Want to take the temperature of teams outside of Chicago? No worries, the index includes ratings for every Major League Baseball franchise, as well as teams in the NFL, NBA and NHL. While the $2.99 download price is a little steep, it's equivalent to about 40 percent of a beer at the ballpark. Now that's a misery index!
Chicago area app developers up to bat
Although Chicago Fan Misery developer Discover Motion is actually based in Cambridge, Mass., there are a number of local firms taking a swing at developing apps for sports fans. ChicagoSportsFeeds, a $1.99 app that is one-stop-shopping for news coverage of all five major Chicago sports teams, is developed by Crystal Lake-based SYDCON Web Development Company.
Think you can do better? Bloggers and aspiring entrepreneurs hoping to take a swing at making an app should check out Red Foundry (found as an iPhone app and online.) Either for free or for somewhere between $9 and $600 per month, the Chicago-based company helps individuals convert home-run ideas into titles available on the iTunes App Store.
Major League Baseball's Hall of Fame app
One of the most pioneering iPhone apps and Android apps available is MLB At Bat. Developed by MLB.com, the app provides free audio broadcasts and subscription-based video broadcasts of virtually every of Major League tilt. There is also a wealth of statistics, access to alternate camera angles and new bells in whistles that are rolled out during the postseason. The app can be downloaded for $14.99 on the iPhone or iPad (note that separate payments required for each device), or for $9.99 on Android smartphones and tablets.
Brad Spirrison is the managing editor of Appolicious.com and AndroidApps.com, where consumers find mobile apps they'll love. The Appolicious family of sites (which also includes video review service AppVee.com) and mobile apps (for the iPhone and Android devices) are discovery tools to help consumers browse, search and share recommendations for the hundreds of thousands of apps available on the iOS and Android platforms. Spirrison, a longtime Chicago-based media and technology commentator, lives in Lakeview with his wife and young son.