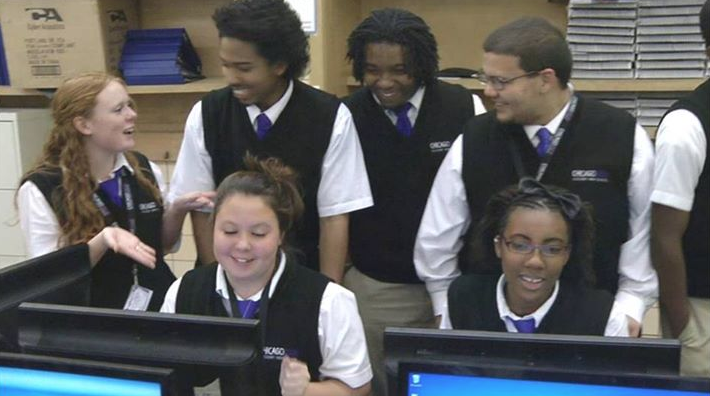 It's no secret that Chicago has been thrust to the front of public education debates. Between the Chicago Public Schools strike last year and the current controversy surrounding CPS school closings, residents have questioned whether it's the school system or the city that is failing our kids.
The scrutiny on the inner city schools has caught my attention, but it has also focused toward one school that's doing something positive amid the chaos. The Chicago Tech Academy, founded in 2009, is located in the heart of Pilsen and provides students something not many neighboring schools can offer: opportunity.
Here, high-school students learn how to write code, build mobile apps and build a start-up from the ground up, all while fulfilling the state math and English requirements.
Now, thanks to the involvement of Chicago's Lightbank office, a venture capitalist firm, the students are also learning how to write business plans, and develop, pitch and fund their start-up ideas. The students turn out scalable solutions for real world problems. Just recently, four sophomores presented their own business plans to a panel of investors, entrepreneurs and Chicago tech leaders; the winning idea was a price-comparison scanning app and review aggregator for in-store shopping.
Students don't face economic or social barriers for acceptance into the program, and many of the teachers at Chicago Tech Academy are retired industry professionals who are there because of their passion, not because of a paycheck.
The Chicago Tech Academy is graduating its founding class of seniors on June 15 and continuing to educate all those interested in becoming tech entrepreneurs.
Adam Fridman is the founder of MeetAdvisors.com, a social network for entrepreneurs. MeetAdvisors allows for professionals to give free advice to those seeking help with their business ventures. Forbes has coined MeetAdvisors "Yelp for entrepreneurs." Armed with a Master of Science in Finance and experience in corporate finance and investment banking, Adam spent the past 10 years tackling a number of ventures with a focus on business development and strategy.