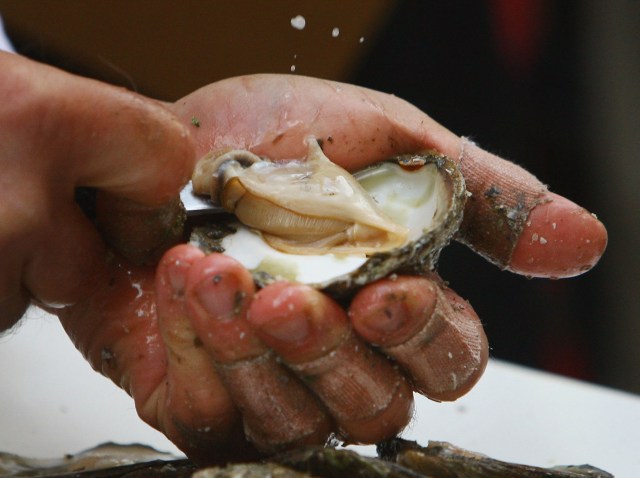 The culinary consequences of the Gulf Oil disaster are hitting Chicagoans where it hurts -- in the stomach.

Red Lobster on Tuesday announced that oysters will no longer be available on the menu. The popular seafood chain has had to remove the item because their fishermen suppliers are finding it more economically advantageous to help clean the oil rather than collect the shellfish.

In fact, the company that supplies Gulf oysters to more than 400 Red Lobsters has closed its doors altogether. AmeriPure co-owner and founder Patrick Fahey said he hasn't been able to "get any meaningful volume of oysters" into his shop on a regular basis.

"We can not get them," he said, according to the New York Examiner.

Things aren't so bad at Chicago's largest oyster wholesaler. Plitt Seafood says it's still able to supply its customers with the shellfish, but it's at a premium.

The cost of oysters has increased by 25 percent, and Plitt has turned to the East and West Coasts as a replacement for Gulf oysters.

"Now everybody has less sources to pull from, so we are seeing a little bit of an issue with supply. A lot of it is in anticipation for what happens when the other carriers have to close," said Elizabeth Treadwell, Plitt Seafood's Director of Marketing.

But the water that the oyster grows in largely affects its taste, and East and West Coast oysters do not taste the same as Gulf coast oysters.

Currently, about 30 percent of Gulf fishing area is closed as a precautionary measure. Plitt anticipates a decrease in production anywhere from 25 to 75 percent during this coming fall and winter.

While oysters may be slowly disappearing from menus, they are not the only shellfish at risk. Almost 80 percent of domestic shrimp sales originate from the Gulf.

"We are just hoping they get the problem under control," Treadwell said.