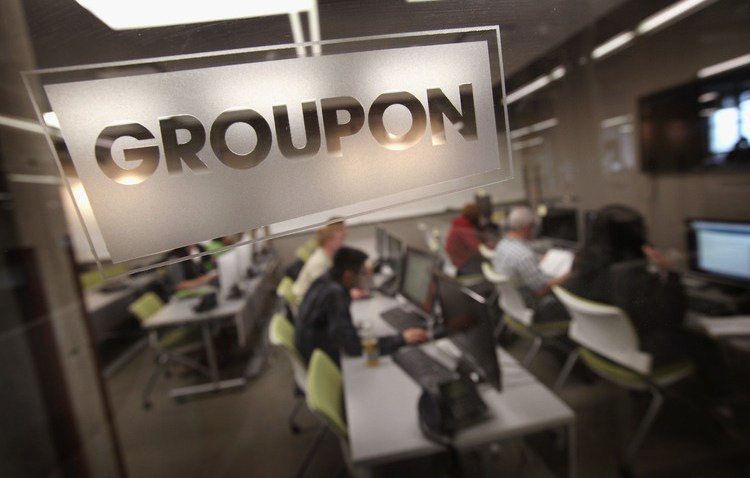 Did you have a good holiday? Groupon did. Its stock has been slowly rising its way back up, although, let's not bust out the champagne just yet: Groupon's stock has been climbing to the dizzying heights of $4. At press time, it's at $3.84, which, again, is higher than it's been, but not yet cause for celebration.
Much of Groupon's miniature rebound has been credited to Tiger Global Management's recent acquisition of 9.9 percent stake in the company. It's an $8 billion hedge fund, and although the filing with the Securities and Exchange Commission indicates "that the investment is passive, and that the firm does not plan to actively call for changes in corporate strategy," it's still a vote of confidence. This is a time where people are not only publicly mocking Groupon, they're treating it much like Calvin does a Toyota logo on so many rear-window decals.
Bloomberg chatted with Edward Woo, an analyst at Ascendiant Capital Markets LLC, who said: "Now that we have a really smart investor taking a really big stake in the company, investors may be saying it's worth jumping in now."
Maybe. But what about the steady stream of bad news surrounding the company? Or the assertion that Groupon Goods -- the company's e-commerce business -- "may be about to choke Groupon to death?" There's a concern that the Goods wing of Groupon's business might be at odds with Groupon's leverage with local businesses. Maybe.
There's a lot of concern about almost everything Groupon does, and the only one that doesn't seem concerned -- at least publicly -- is Groupon. Is it a case of the company being cocky? Merely focusing in when things are getting dire? Who knows.
Some are already declaring Groupon is in the rear-view mirror, to be replaced by companies like Sidepon. Who the heck knows. As usual, though, whatever comes next for Castle Groupon -- we will be watching.
David Wolinsky is a freelance writer and a lifelong Chicagoan. In addition to currently serving as an interviewer-writer for Adult Swim, he's also a comedy-writing instructor for Second City. He was the Chicago city editor for The Onion A.V. Club where he provided in-depth daily coverage of this city's bustling arts/entertainment scene for half a decade. When not playing video games for work he's thinking of dashing out to Chicago Diner, Pizano's, or Yummy Yummy. His first career aspirations were to be a game-show host.