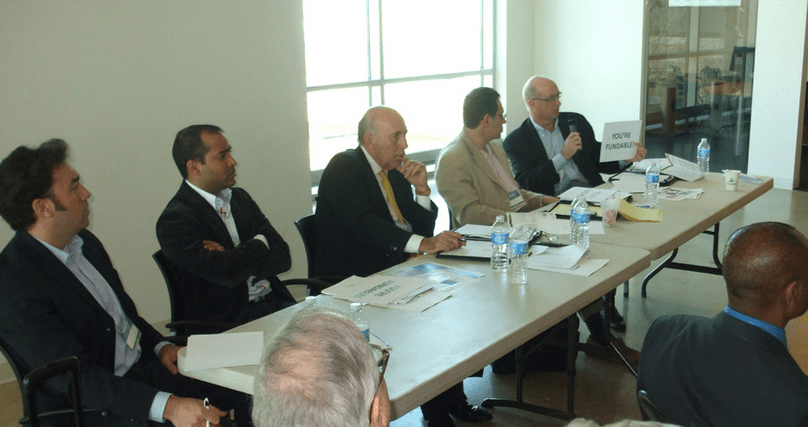 Thanks to TV, it seems that pitching investors for funding or for a chance to win prize money to launch or boost startups has become more and more mainstream, and desirable. If you are looking for a chance to get in front of potential investors and pitch your business in Chicagoland, here is a list of must-attend events:
BNC Venture Capital Group
A smaller, selective event, BNC Venture Capital meets the first Tuesday of each month to introduce three early-stage companies seeking capital from accredited investors (angels, VCs and private equity firms). Companies make a 10-minute pitch to a mixed audience of investors, service providers and entrepreneurs followed by 15 minutes of Q&A. They encourage coaching prior to the pitch to ensure you make the best presentation possible.
Submissions: Send your executive summary and PowerPoint pitch deck for consideration (an email is provided on the website).
Event dates: The first Tuesday of each month. Suggest signing up for event invitations.
Our Recommendation: A more casual environment and great opportunity for startups that have fine-tuned their pitch but need opportunities to practice and get valuable feedback. It is definitely worth it to attend a few events beforehand to enhance your pitch prior to submitting, as well as meeting and talking with attendees.
Technori Pitch
Technori Pitch is a monthly showcase of innovative starters launching their brand new company, and has loads of local sponsorship and support. It has quickly become the hub for impassioned entrepreneurs, developers, designers, tech companies, investors and general tech enthusiasts.
Designed to be a showcase of launching startups, Technori Pitch gathers 550 people together in Chicago, every single month, to watch as five startups demo their company on-stage. To date, more than 100 companies have presented on their stage.
Submissions: Technori does require all hopefuls to apply for the one of five slots available at each event. The more exciting and innovative the better. The application process is pretty simple online but not everyone is selected.
Next Event: May 28, 6 p.m.
Our Recommendation: Definitely for well-practiced startups and not the faint of heart. Technori looks for startups that truly disrupt the market or create an entirely new niche or trend, and the process is highly selective. You really must attend a few events prior to applying to pitch to see if your business is a fit. And, if you don't get selected, the after party is always fun and offers the opportunity to rub elbows with some leading Chicago innovators, investors and startup experts.
Funding Feeding Frenzy
They call it "Shark Tank Meets the Apprentice." Next to Technori, VentureSHOT's Funding Feeding Frenzy is the grand daddy of them all when it comes to pitch events and the potential for getting real funding for your startup -- now.
Held twice a year, this event attracts the best of the best startups and pitches in front of a panel of top investors, VCs and entrepreneurs who provide valuable feedback to make your pitch better. In the audience are a number of potential investors looking to add to their portfolios and coming to hear pitches. An exhibition area allows many more companies the chance to present their businesses to attendees, even if not selected to present. A number of awards for top Best in Show winners, decided upon by the panelists and investors, including a complimentary mentoring session at VentureSHOT, one of Chicago's top incubators.
Submissions: There is a small application fee to submit online. Although not required you can provide a video (three minutes or less) that shows off your company. A team of judges will sift through all the applications to choose 10 final presenters. There is an additional charge if you choose to have a table in the demo/exhibition area. Each finalist will be allowed 10 minutes to present and 15 minutes of Q &.
Next event: June 18 and December 2013, TBD.
Our recommendation: This event is for those businesses that are well-practiced, had some mentorship and truly ready for funding to take them to the next level. Best to attend the day-long event to experience it and understand why they call it the Funding Feeding Frenzy. Great opportunity to network, watch and learn. Totally worth getting a demo table and purchasing a ticket for the VIP luncheon called "Meet the Money."
Jennifer Fortney is president of Cascade Communications, a boutique virtual PR and marketing communications company in Chicago focusing on small business and startups. In her 15+ year career she has worked with some of the top Fortune 500 companies and a wide variety of small businesses and startups across the country. A journalism major with music minor from the University of Kansas, she is also the PR Instructor at SCORE Chicago and founder of @MyStorySource live media pitch feed on Twitter and Facebook. @SmallBizPRXpert