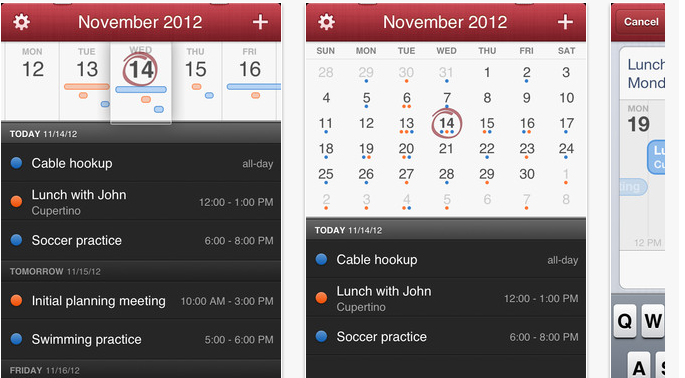 Over the break I got a lot of time to play around with a couple different apps I want to tell you about. The first one is Fantastical, which Inc. Well contributor Jay Margalus actually turned me onto about a month or two ago.
Fantastical proclaims itself to be your new assistant. Well, kinda. What it really is is a super-slick and super-versatile calendar app that handily dethrones iCal. It might be weird to rethink using iCal at all, but trust me: Fantastical makes it clear there isn't another choice.
The main thing I like about it is how easy it makes to repeat calendar items and manage parallel calendars. So, I have my personal stuff, my work stuff, and then odds and ends stuff (paying bills). One of my biggest headaches before was saying, "OK, so I start teaching again in a few weeks and I'll be teaching this particular class for eight weeks." Before I would have to put in each individual class, eight times, or just have it repeat infinitely and remember to kill the event on my phone after its end date.
Fantastical gives you the tools to manage your digital calendar the way you might an old-fashioned one: You can pop an event in, specify what calendar it's for and then indicate "this event should repeat for only eight occurrences." That's it.
However, it's possible I might have too many calendars or something wonky happened with my Google calendars which I had previously synced with iCal. All I know is that I wound up with events on my phone that I can't eliminate that don't show up on my laptop. Their tech support couldn't really figure it out, and I'm not sure it's a problem with Fantastical, so I wouldn't expect them to be able to. But that's really my only gripe with the app.
Otherwise, Fantastical is really great. You can tell it to always remember the alerts you want — so every time you put in an event, say, it can bring up an alert two hours or two days before or whatever. It can use your phone's GPS to figure out where you're at so it can plug in the address for you (although given AT&T's wonkiness in the city, sometimes this will take longer than to just type it out yourself). Basically, it just streamlines the whole calendar aspect of your day-to-day. I don't know how often you have to pop open the calendar and add something to it, but I suspect it's a lot, like me.
Anyway, I like it so much that Apple's Calendar app on my phone has been relegated to the "Unwanted" folder.
If you want to check out Fantastical, it's $15 on the desktop and $4 for iOS. There's also a two-week trial you can check out, too.
Want your app featured in the App Shout-Out? Tweet about it to David and he'll check it out. (Yes, I will.)
David Wolinsky is a freelance writer and a lifelong Chicagoan. In addition to currently serving as an interviewer-writer for Adult Swim, he's also a comedy-writing instructor for Second City. He was the Chicago city editor for The Onion A.V. Club where he provided in-depth daily coverage of this city's bustling arts/entertainment scene for half a decade. When not playing video games for work he's thinking of dashing out to Chicago Diner, Pizano's, or Yummy Yummy. His first career aspirations were to be a game-show host.