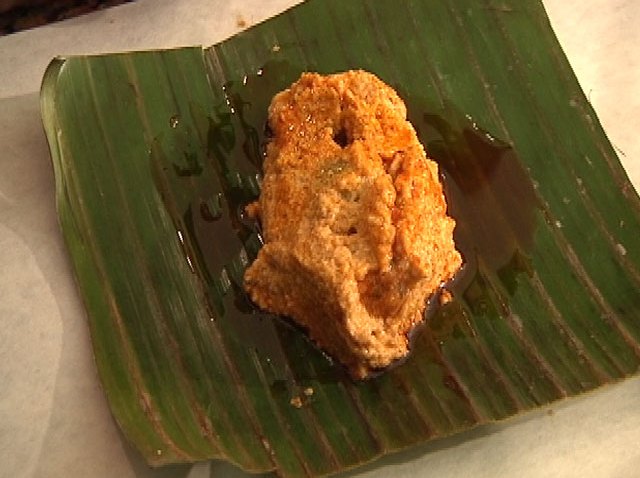 Pasteles are wrapped green banana stuffed meat pastries, traditionally served during the Christmas season in Puerto Rico.

Ingredients:

Masa:
6 Green bananas, peeled and chopped
1 1/2 Yautía (taro root), peeled and chopped
1/2 tsp Salt

Filling:
1 Russet Potato, peeled and finely chopped
1 lg Yellow Onion, finely chopped
1 lg Green pepper, seeded and finely chopped
4 cloves Garlic, peeled and chopped
3 tbl Olive Oil
2 lb boneless Chicken Breasts & Thighs, cut into small pieces
1 cu Tomato sauce
1/2 Water
1 cu Fresh Cilantro, chopped
2 tsp Dried Oregano
1/2 tsp Salt
1/2 Pepper

Additional Elements:
15 Green Olives
Banana Leaves, hard spine removed and cut into 15 - 12"x6" rectangles
Parchment Paper, cut into 15 - 12"x6" rectangles
Kitchen String
1/4 cu Achiote or Vegetable oil

Method

Masa:
Keep the banana and yautîa chunks in a large pot of cold water mixed with the salt water as you are cutting them to keep them from browning. When you have cut everything, drain the water and puree the ingredients in batches in a food processor. The consistency should be like cooked oatmeal, so add a little water if it is a bit stiff or dry. Chill in the refrigerator while you make the filling.

Filling:
Heat the oil in a large saucepan over medium heat. Add the potato, onion, pepper and garlic and sauté for about 5 minutes. Add remaining ingredients and simmer over medium-low heat for 20 minutes. Remove from heat, season with additional salt and pepper if you wish and allow to cool.

Assembly:
Center a piece of banana leaf on a sheet of parchment paper. Wipe the banana leaf dry and then brush the top with a teaspoon achiote or vegetable oil.

Spoon about 1/2 cup of the masa in the middle of the banana leaf. Spread evenly over the leaf, leaving a 1-inch border around the edges. Place 2 to 3 tablespoons of chicken filling in the middle of the masa along with a green olive.

Fold the top edge down over the filling. Bring the bottom edge up over this. Then fold in both sides to make a package. Be careful not to wrap it too tightly or the filling will squeeze out. Flip the package over on the parchment so it is seam side down.

Fold the bottom of the parchment up over the wrapped package. Fold in each side, then roll up, burrito-like, to complete the package. Tie the package lengthwise with a piece of string and then tie it again crosswise. You can add two additional shorter pieces of string crosswise to completely seal the package. Repeat with remaining leaves.

Bring a large pot of salted water to boil. Drop in the prepared packets and boil gently for about 1 hour.

Remove from the water, drain, and remove the outer parchment. Serve the pasteles with or without their banana leaf wrapping. Give your guests salsa or hot sauce to enjoy with the pasteles.