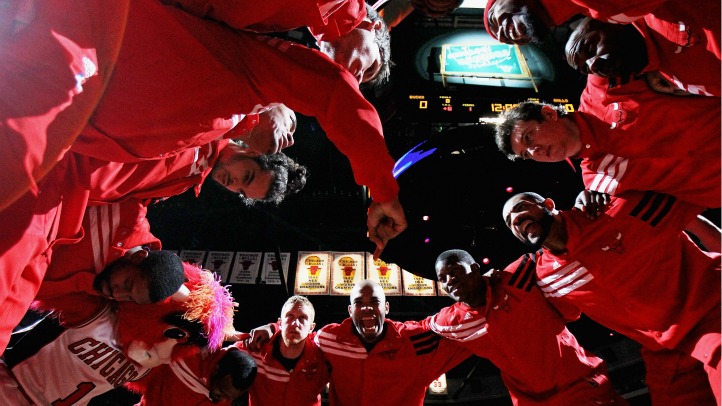 The NBA Playoffs get underway Saturday, yet nothing is in place for Chicago. Not where they'll finish or who they'll play in the first round.
The Bulls are still in a race with the Miami Heat for the No. 1 overall seed in the Eastern Conference. Though it appears Chicago has the top spot all but locked up, they still need to win at least one of their final two regular season games to clinch the top seed. And Miami still has a mathematical chance at No. 1, albeit a very slim one.
Should the Bulls lose their final two regular season games (on the road at Indiana and at home against Cleveland) and if Miami wins their last two (on the road against Boston and Washington), the Heat will finish first and Chicago will take over the second seed.
In other words, the best thing for the Bulls to do is win out and it won't matter what Miami does. Also, Chicago still has a chance at finishing with the best overall record in the NBA and home-court advantage throughout the playoffs for the second straight year if the San Antonio Spurs drop one of their last three regular season outings.
But if you think there's drama at the top, there's even more intrigue at the bottom of the Eastern Conference standings.
The New York Knicks are a half-game ahead of the Philadelphia 76ers for the No. 7 seed in the East, and the Knicks can actually move up to No. 6 and overtake the Orlando Magic if New York goes 2-0 to close the season and the Magic go 0-2 because the Knicks own the tie-breaker.
Philly still hasn't "officially" clinched a Playoff spot as they're in a fight with the Milwaukee Bucks for No. 8 who are currently on the outside looking in.
In order for Philly to clinch, they'll need a road win on Monday night against the New Jersey Nets or a Bucks home loss to the Toronto Raptors. However, if Philly loses and Milwaukee were to win, that strengthens the Bucks chances to get in. The best part of that scenario is if it does indeed play out that way, the Bucks will have an opportunity to take destiny in their own hands as they'll face off with the Sixers at the Bradley Center on Wednesday night.
All told, Milwaukee needs to win their last three games and they need Philadelphia to lose their last three in order to make the Playoffs.
There a couple more scenarios in play for seeds No. 6 and No. 7 that affects No. 8, but in what has already been a crazy, lockout shortened season, it's only right the insanity lasts right up until the final day and you can expect this wild ride to continue throughout the Playoffs.